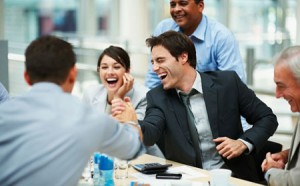 For any business organisation, the staff will be at the heart of the operations. Attaining a motivated and productive workforce that will allow your business to operate efficiently and profitably plays a significant part in the business's successful operations. For people that need to manage staff, the desire to build a tight knit, loyal and profitable workforce is the ultimate dream.
However, many business owners and managers have no idea how to successfully manage or motivate staff in their business.
Things to acknowledge as a person who manages staff.
When staff are hired, they are there for their own primary interests, not yours. The agreement that you have with the employee will see them achieve a mutual agreement where they will receive a reward (usually in the form of income) in exchange for their services. You may build friendships and other relationship bonds with your staff, however it is important to remember the primary reason why they are there, what they value most and how that can impact your management style.
The aim to get people to become team players.
It is important to also acknowledge that not everyone is a team player. While many people will generally work towards the greater cause and collaborate with their colleagues, there are some people that simply cannot work in a shared team environment. Identify these people early and weed them out of your organisation. If they add value in an individualistic way, you can move them to a silo environment where they can still contribute to the organisation without affecting the team.
What is the value in team building for businesses?
Team building initiatives can help the operational efficiency and productivity for a business by improving the employee morale, workmanship, and value recognition by getting members of the organisation to work more cohesively. The Queensland Government urges businesses to engage in team building activities to extract the best from their workforce. In their resource in regards to team building in the workplace, they state that employees' contribution will not only result in the succession or failure of a project, but also further contribute towards employee motivation and productivity.
How can businesses implement team building efforts?
There are a number of ways businesses can implement team building initiatives that will help to boost employee morale, motivation and workmanship. There are some initiatives that require little or no financial investment. And there are others that may require investment funding for the business.
Team bonding days out.
Build more excitement in the business with dedicated company days out that involve team building activities. Ideally, sports activities will be arranged and there will be a mixture of staff in the different teams. If not sports, some activities such as tug of war with the flag tied to the sisal rope that can motivate the team to victory.
Office games.
Simple games can be played at the office that will also encourage team building.
Games such as one truth and one lie can get teams to learn more about their employees lives outside of work. The game involves the staff members introducing themselves and telling one truth and one lie about themselves. Even getting your staff to play charades and aiding themselves with cooperative working abilities will be beneficial.
Once you have been able to develop a tight knit group through your team bonding initiatives, you will notice that the teams will manage themselves and that productivity will increase for the business, resulting in better output and profits. Recognise the value in team building activities and invest in it for your business's future.