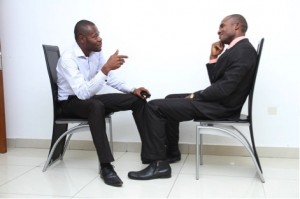 You've spent hours perfecting your CV, re-read your cover letter a thousand times, spent half your time searching for job openings, and now you've finally landed an interview for your dream job. Finally, the interview is the only thing standing between you and the career of your dreams – so don't let your outfit let you down! Choosing what to wear for a startup job interview can be tricky – you want to come across as professional, but then is there such as thing as too dressed up? Or, is it better to be too dressed up than run the risk of coming across as casual and unprofessional?
Thankfully, we've put together a list of the best things that you can wear to a job interview.
Suits.
If you're a man, wearing a suit for a job interview is essential. A well cut suit and tie speaks volumes, and it's bound to give you the serious and professional edge that you're looking for. Suits are available in a range of colors – opt for gray, navy blue or classic black for your job interview. For the ladies, suits are also a good option – look like you mean business in a smart pant or skirt suit. If you'd rather not pair a blazer with your skirt, cardigans for women are a good option as they look clean and professional over a blouse or shirt.
Accessories.
You don't want to turn up to your job interview wearing any wacky accessories such as cartoon ties or crazy statement necklaces, however it's a good idea to wear something that will help you to stand out and be remembered. For the men, this might be a bright red tie or a tie with a noticeable pattern, or maybe a professional-looking watch (you can consider getting a classy yet practical one from ChronoExpert). For ladies, a patterned or brightly colored scarf or an unusual necklace may do the trick. Remember, the key is to be subtle and choose an accessory that you can merge with your professional outfit, but you know that you'll definitely be the only one wearing something like that.
Shoes.
Never, ever turn up to a job interview in trainers or canvas shoes – this screams unprofessional, and unless the interviewer is exceptionally laid back, you're unlikely to make a great first impression. Men should wear plain black or brown smart shoes which will pair nicely with a suit – think about the color of suit you're wearing beforehand – brown shoes will go nicely with a blue or gray suit, whereas if you're wearing a black suit you're best going for black shoes. Make sure that they're polished and clean! For ladies, heels are the most appropriate footwear – don't go overboard and wear platforms or anything too high though – court shoes or shoes with a medium heel are the best choice. When it comes to color, opt for something that matches your outfit and looks professional – steer clear from bright colors and instead opt for something classic such as black, tan or nude.
For your last job interview, what did you wear?
[Photo credit: Royalty free photo]