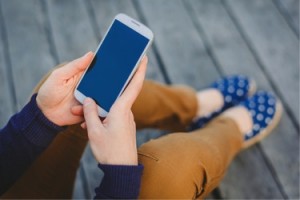 Samsung shipped 83.2 million smartphones around the world and captured 24 percent of the marketshare in Q1 2015, according to Strategy Analytics. The market share jump puts Samsung in the lead over its U.S. rival, Apple. Samsung climbed to the top by focusing on innovation and releasing new designs and features that disrupted the smartphone industry.
Here are some of its most surprising past, current and future innovations:
Galaxy Note
When Samsung released the Galaxy Note, many thought it looked like a regression back to the old PDA-style Palm Pilot. They also thought it would tank in the marketplace because its enormous screen and stylus pen went against the grain of the products being released by its competitors. Instead, the Galaxy Note sold millions and disrupted the smartphone industry by introducing the phablet to the digital market.
Galaxy S6 Edge
Samsung debuted its Galaxy S6 Edge as the "new face of Samsung design," quotes CIO. Samsung aims to be a design leader in the smartphone marketplace, not just a technological one. The S6 Edge features a curved glass display that gently glides over the sides of the screen for a dazzling visual effect. Its 5.1-inch Quad HD Super AMOLED display optimizes your news feed and movie-streaming experience.
Galaxy A8
Samsung announced its yet-to-be-released Galaxy A8 smartphone that features a large 5.7-inch Super Amoled touchscreen with 1080p resolution. The thinly-packaged surrounding metal body is only 5.9mm thick. It's also upgrading its RAM to 2GB and 16GB of internal storage memory. Along with its 16-megapixel rear camera, it comes with a 5-megapixel camera above the screen for selfies. The combination of massive screen, storage and convenience will make this smartphone a hit with photographers and the media obsessed.
Milk Music
Samsung's innovation doesn't just extend to smartphone hardware and design. Only available on certain Galaxy devices, Samsung debuted its free streaming radio service in 2014 for ad-free listening. Milk Music eliminates the need to pay for unnecessary and pricey streaming services. Instead of focusing on everyone in the smartphone marketplace, Samsung focuses on its own customers and has fine tuned its service according to their feedback.
The Future of Samsung
At its inception in 1938, Samsung imported and exported food and produce before venturing into televisions and appliances around the 1970s. With a history of innovation and adaptability, Samsung will continue venturing into new technologies. For example, the company launched a Samsung Digital Health Challenge with $50 million in investments from its Samsung Catalyst fund. Samsung hopes to promote innovation by working with startups to build non-invasive sensors that will work in line with advanced algorithms.
Samsung is also taking a look at smart lighting innovations through plug-and-play LED models. The smart lighting platform hopes to address energy waste by detecting natural levels of light and adjusting accordingly. It's only normal that a company known for its cutting edge smartphones will create the ability to control and monitor our smart lighting systems, or eventually our entire house, through the tap of a few buttons on our devices.