By Roman Yarovyi, PR and Communication Manager for One Visa Ltd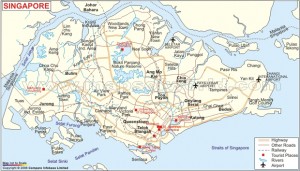 If you are reading this article, you are: a) an entrepreneur who values simplicity and innovative approach to business; b) you have gone through the whole Internet looking for the ideal conditions for your startup, and you already know that Singapore, which offers unparalleled boosts, is a bargain alternative to the expensive Silicon Valley (or at least Hong Kong). Now that you are in the very beginning of your startup venture, and you need some milestones that would guide you in a correct direction.
Each of one of the following steps, from materializing of your idea on the paper to the registration and plunging into work, is an essential milestone which you should carefully consider.
1. Doing the Groundwork (Mentally and on Paper).
Before getting down to the nitty-gritty, an entrepreneur must make a cup of coffee, sit down and turn over the idea in his mind. Then try to materialize your ideas into the business plan, at least an approximate one. But you must ensure your idea is capable to generate more dollars than it is going to spend.
Then make an internet research or talk to the people from the niche to find out the situation on the market you are going to poke your head in. Is your product or service really needed over there? Probably you will need to make changes to your business plan. Calculate the overheads and try to cut them off as much as possible.
Build up your team. Find loyal people (staff and investors) who share your ideas and who would support you on the way to success.
2. Determining the Business Structure.
Singapore offers a bunch of legal entity forms available for registration: sole proprietorship, partnership, Limited Liability Company, a subsidiary, a branch office, a representative office, and so on. However, you shouldn't choose at random because the form of business formation will actually impact a lot of aspects of your business: your personal liability and credibility in customers' eyes, abilities in borrowing money and expanding the company, attitude of banks and creditors – just to name a few.
For example, Sole Proprietorship should work for you if your small business is out of risks and you aren't likely to be at law with anybody. If you are going to share your business with a partner, you should better consider registering a partnership firm. These two entities are winning from the tax point of view (your activity is subject only to personal taxes), so you save a lot by avoiding corporate taxes. The Sole Proprietorship is a great choice for self-employed individuals or freelance activity. But the main drawback of both forms of Proprietorship is that your liability (as an owner) isn't limited to your company's assets, and when any legal claims rise, you risk losing your own assets. If everything goes great, you win, but if you face problems, you may lose everything you have. So you aren't protected.
The best option for a new company in Singapore would be a private limited company that limits owner's liability to the company's assets. Pte. Ltd. is considered to be the perfect and the safest form of legal entity in Singapore; plus it gives the company better credibility when dealing with investors, customers, and banks if you would need a loan. It is more flexible and sustainable due to the wider options of ownership transferring and growth. Another important benefit concerns taxes. The Singaporean government pampers new private limited companies by giving them incentives and tax discounts. It frees new Pte. Ltd. companies from paying the corporate tax for the first 100,000 SGD of their profit, and halves the tax (from 17% to 8.5%) for the next 300,000 SGD. What is over this income is taxed at 17% rate.
Please take into account that for registering a private limited company, one shareholder and one director are needed (although they can be the same person). One director must be a Singaporean or a Singaporean permanent resident. If you are a foreigner with no right to stay in Singapore, you may be puzzled by the last requirement: how are you going to look for the Singaporean director for your company? But it is actually not an issue at all if you involve an agency that provides incorporation services. Their incorporation package includes appointing a nominee director and even secretary services. Leveraging the expertise of incorporation teams is a good choice also because they could advise on the most winning business entity for your startup, help you to calculate all prospective expenses and tweak your business plan.
3. Choosing a Business Name.
Selecting an appropriate and unique name for your future company is a necessary part of registration. The government demands that the name would represent the philosophy of your business and not sound similar to the names of other existing companies or obscene. It is better to make a name check before the registration to avoid possible issues and delays. Today, it would be wise to match the selected name with the available domain names for it if the website is crucial for your business. If you involve an incorporation service company, they would do a diligent name check for you to help you save time and achieve better representation of your business.
4. Getting the Right Address.
To have your business registered, you must provide the real local Singaporean address where you are going to rent premises. This address is crucial as all official documentation will be sent to this address only. Then you must agree these premises with the Urban Redevelopment Authority (URA) and get an approval to use them in a commercial way.
If your small future firm is going to employ only a couple of people and renting an office belongs to overheads you try to shrink, you probably think how to use your rented flat' or house's address for the registration. It is possible. If you are renting an HDB flat, you must seek for approval of the Housing Development Board. If you are going to work from a rented house, you must look for permission for such activity via Home Office Scheme (HOS). Please take into account that after registering your office in the private house under HOS, you won't be allowed to employ more than 2 foreign workers and reveal the presence of your firm by using signs (boards etc.). If you are not sure which way to choose, you should consult an incorporation service provider. Most of them offer free consultations (assessments) so even if you don't book a full incorporation support, you can get a complex assessment and a piece of valuable advice absolutely for free.
5. Inquiring about Business Licenses.
Running some businesses requires mandatory licensing in Singapore. And although you will be allowed to get the necessary license only after your company is incorporated (registered by ACRA), it is wise to study the legal field in advance to avoid any problems with law in the future. You may refer to OBLS for specific licenses required for your niche. Probably you will need several licenses from different authorities if your future firm is going to operate in the sectors of entertainment, finance, education or producing beer, cigarettes, and other controlled stuff.
6. Probing the Visa Situation.
Think about getting a visa for every member of your team you want to take along to the country. Professionals, managers and executives (directors) can arrive in Singapore for work under Employment Pass which is issued for 1-2 years and then can be renewed multiple times until needed provided that the workers still meets the requirements. Directors must take into account that they can use Employment Pass only if the business registration process is completed. If the entrepreneur needs to arrive in Singapore before starting the incorporation, than EntrePass is the only option.
The advantage of involving one-stop incorporation and migration companies is that an entrepreneur doesn't have to suffer from a headache trying to cope with both incorporation paperwork and visa issues at once. One visa agency leads your future company from a business idea to registration and to the relocation of your staff. You just bring your situation to them and they develop a strategy for both company incorporation and employee relocating in accordance with the latest trends of the ACRA and the Ministry of manpower.
7. The Registration Itself.
When everything is ready, you can boldly register your business using BizFile or entrust this matter to a professional incorporation company.
Roman Yarovyi is PR and Communication Manager for One Visa Ltd, a Singapore Employment Pass agency based in the Singapore. Yarovyi heads up the department that specialises in a range of news & PR-related activities for major international clients. These services include support of international clients who decide to relocate to Singapore, start own business or invest in Singapore's economy.