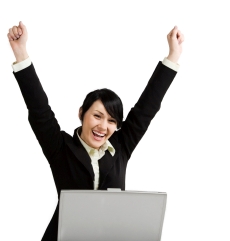 Is there anything you like about your current job? If not, what would you rather be doing? Being in a job that you take no joy in can be truly detrimental to your life and the people around you. The opposite holds true when you find that job that makes you feel challenged, needed and passionate all at the same time.
Ever thought about just how far-reaching your happiness can be? Read on to discover just a few of the ways working in a job you love affects your life:
You become a motivator for others.
Positivity tends to breed positivity. If you are interested and engaged in the work you're doing, that will rub off on others. You become a kind of de facto leader in this sense. While you may not be officially calling the shots, your energy and drive sets the tone. People who thrive on this sort of positive feedback tend to enjoy the act of educating others. Educational institutions like Evocca College are always in need of driven, enthusiastic people looking to pivot into a career helping others learn and grow – check out this link for more information.
Your productivity goes through the roof.
While it's nice to be a conduit for positive energy, it all still has to start with you. As the saying goes, "Do what you love and you'll never work a day in your life". Enjoying what you do not only makes the day go a lot faster, it also holds your attention much longer and allows you to get far more done. Similarly, if you find you have a lot on your plate, it's less of an issue starting early or staying back late to get it all done because it's all still interesting to you.
Your mental health improves dramatically.
Robotically going to a job you hate every day of your life because it pays the bills is no way to live. It can decimate your mental health, especially if you stay in the job long-term. Finding work that you love can cause your mental health to perform a 180° turn overnight. If you wake up in the morning and groan at the thought of another day in the office then it's time to re-evaluate.
You want to grow and be challenged.
People who hate their jobs are mostly content to skate by on the bare minimum. They're only present because their bills don't get paid otherwise and come 5pm, they're long gone. People who love their jobs are, more often than not, founding heaping extra responsibilities and challenges onto their plate. The phrase "not enough hours in the day" does not apply to someone who actually likes what they do.
You actually look forward to working.
While people who love what they do may not bound cartoonishly out of bed, delighted to face the day, they are always keen to see what the day has in store. The thing about working hard at something you love is that amazing opportunities within your industry rapidly begin to open up, meaning every day holds some new, amazing thing you get to do. Who doesn't want that?
These are but five of the reasons working a job you love will affect your life for the better. How do you feel about your current job? The difference between doing what you want to do instead of doing what you feel like you have to do is a big and important one. Altering that status quo might be a pretty scary prospect to some, but it's one that is well worth altering. What's your dream gig? What's stopping you from doing it? Tell all in the comments below.