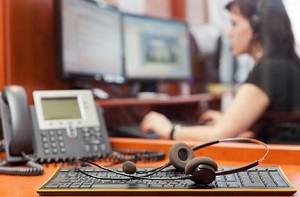 Receptionists have a very important role to play in the running of a business. They answer and transfer calls to various departments and are responsible for a number of important tasks, such as taking messages. No matter how much an in-house receptionist might be important, the high costs involved make it difficult for some companies to hire them.
This does not mean you can do without a receptionist; you just need to opt for a more economical alternative, and the best solution comes in form of a virtual receptionist. By hiring a virtual receptionist you will outsource your receptionist services to an offsite company, and they will take care of your calls, meaning you never miss an important call again.
If this does not sound like reason enough, continue reading to discover the top 5 reasons to choose a virtual receptionist:
1. Virtual receptionists can be very cost effective.
If you outsource your administrative tasks to a virtual receptionist or virtual assistant, it will save you the expense of hiring a full time worker. Particularly for small business owners this will prove to be very beneficial, as they will need to pay only a set fee for the package, rather than hourly rates. In addition to this, you will not have to pay for sick leave or holiday, as you otherwise would have to, if you hire a full time employee. You also do not have to worry about purchasing equipment or about office space, as a virtual receptionist will use their own equipment and work from their chosen location.
2. They can offer 24/7 Availability.
A virtual receptionist will be available to answer calls, take messages, and provide a friendly, live voice for your company, 24 hours a day, throughout the week. They also offer services in case your business runs outside regular office hours, and virtual receptionists work for you even on weekends and on holidays. So, you can be sure you will never miss an important call, and never dissatisfy your customers, no matter what hour of the day, or which day of the year it is.
3. Improved Customer Service.
Virtual receptionists are trained to offer excellent customer service. Each phone call they take will be handled by them in a professional manner, making sure that your customers are always thoroughly satisfied with the services they receive.
4. You will notice an improvement in productivity.
By directing calls to a virtual receptionist you will notice a great effect on your productivity levels. Rather than stopping and answering calls every now and then, you will be able to focus on more important tasks, while having the peace of mind that the virtual receptionist will answer all calls and take all messages. If a call is transferred to you, you know it demands your immediate attention.
5. You'll waste no time on training.
If you hire a new employee, you will have to invest time in training them. This obviously takes up some of your time, and even then you cannot be sure if the employee will work as per your expectations. If your trained employee suddenly quits work, then again you have to get involved in the same process. However, virtual receptionists are fully trained, so this saves you time. In addition to this, they are thorough professionals, and will be with you, for as long as you need them.
The five reasons mentioned above clearly show that hiring a virtual receptionist can prove to be very beneficial for you and your company. They are not only a great solution for you, but also an equally satisfying solution for your customers. For virtual assistants or eReceptionists visit Zintel, who offer a full range of services to benefit your business.