Keeping tight control over all financial transactions is vitally important for an e-commerce start-up, helping to improve the chances of success and long-term financial viability.
Here we explore five of the best money saving hacks that can help turn your e-commerce start-up – or any kind of startup, really – into a success:
Employ Experts on the Cheap.
Many e-commerce businesses require a significant volume of different skills and expertise to help improve the overall performance and professionalism. Many of these skills may be outside of the core abilities of the team of a small start-up, so external help should be sought.
Rather than employing full time employees to complete the important (often one-off) tasks required to create and e-commerce success, seek out a skilled freelancer – Fiverr is a great resource for this.
Get an Extra Pair of Hands for Less.
Alternatively, if you require a full-time employee to help with the day-to-day running of the business – the Government is currently running apprenticeship schemes which reward employers. Companies taking on an apprentice may be entitled to a £1,500 grant which could help cover the wages of an apprentice for more than three months (the minimum wage for apprentices aged between 16 and 18 is £2.73). Find out more on the Government's website here.
There are a wide range of time-consuming jobs which will suit unqualified apprentices such as CMS and stock management – freeing up money for the directors and managers of the company.
Cut Shipping Costs.
For many e-commerce start-ups, the biggest overhead is often delivery costs – so this is one of the most important outgoings to minimise. Compare courier prices with a site like Rapid Parcel to help identify the cheapest courier firm for the services you require. The service allows you to input the size, weight and delivery details of the packages you need to send – helping you significantly cut overall courier prices.
Install a Professional Number for Free.
Rather than giving out your home or mobile number to anyone who visits your website, Just0845Numbers can help you install a professional phone number for free. Incorporation of a professional-sounding number can help identify your firm as an established and trustworthy e-commerce business.
In many cases, customers are more likely to place their trust in a company they believe to be professional and dependable.
Do Your Own Accounts.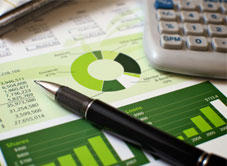 Completing your own accounts and tax returns is often one of the most-dreaded tasks a start-up business director will be required to do – leading to them spending money on outsourcing it to a professional. The Wave Accounting tool makes it easier for business managers to control and oversee their accounts, payroll and finances, without having to dig into the company funds to pay for a professional accountant.
Completing your own accounts can help you better understand your financial successes and limitations, aiding the company's future progression.