by Mark Satterfield, author of "The One Week Marketing Plan: The Set It & Forget It Approach for Quickly Growing Your Business"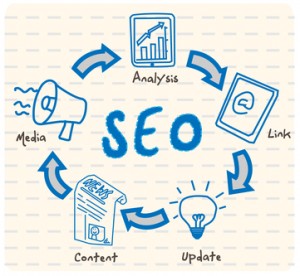 You know the thought experiment that goes, "If a tree falls in a forest and no one is around to hear it, does it make a sound?" It's time to apply this principle to your business's blog.
You've been blogging your heart out, faithfully creating well-written, compelling posts. But does any of it really matter if no one — other than your mom and best friend, of course! — is stopping by to read your content?
Yes, blogging can attract lots of prospective clients to your site. But no matter how great the content, you must first take the technical steps that will get your blog in front of the right people.
Blogging is a great way to increase your ranking in search engines. Google loves sites that have new, updated content, which you're providing every time you post a new blog. It also favors bigger sites, which frequent blogging also accomplishes.
However, if you're not following the guidelines that get your site higher in the natural search listings of Google and other search engines, all your hard work may be in vain.
Search engine optimization is a vital part of blogging. The idea is to subtly infuse your posts with keywords potential clients might be searching for — so they'll end up on your site, sign up for your communications, and ultimately, buy your products and services.
People think SEO is hard, but it's really just a matter of following a formula. Here are some quick, easy-to-implement SEO tips that will help you get your blog in front of as many people as possible:
1. Choose your "key" keywords…
Before you write a post, pick one or two of the keyword phrases that you want to get highly ranked for. So, for example, if you're an estate planning attorney, your top keyword phrase might be "estate planning" or "inheritance tax." If you're a chiropractor, it might be "back pain." "You don't have to do this for every post you write," notes Satterfield, "but try to do it for at least 50 percent of them."
2. …But don't "stuff" your blog with them.
When you write your post, include your keyword phrases twice, but no more. When blogging first began, people put keywords in multiple times, sometimes to the point of ridiculousness. It wasn't long before Google caught on to this trick of 'keyword stuffing,' and they now penalize you for doing it.
3. Intro your keyword phrase in your headline and the first sentence of your blog.
If you're focusing on two different keyword phrases for a post, you'll have to choose which one is most important to you, since it's unlikely you'll fit both in the same headline. You can always highlight the other one in another post.
The headline of your blog post shows up in search results. If you include the terms that people search for in the title of your article, you'll almost immediately start to see your Internet traffic increase. So, here's what this might look like. Let's say one of your keyword phrases is 'executive recruiter,' and your first blog post is titled, 'How I Became an Executive Recruiter.' The first sentence could then read, 'I never expected to be an executive recruiter, although I sort of knew what one was…' It's that simple.
4. Add the keywords and phrases as "tags" to your post.
WordPress has a box that lets you create tags to let the search engines know about your post so they can add it to their index. Put in whatever keywords or subjects you find appropriate, even if you didn't emphasize them in your post.
5. Make sure your post is at least 300 words.
One of my clients who was posting four times a week discovered that only the blogs with 300 words or more were having an effect on his ranking.
Many social media experts agree that 300 words is the minimum number necessary to get SEO benefits for your blog. That being said, if you want to write a post that's 600 words or longer, break it up into Part I and Part II (using the same headline) and you'll get double the search engine benefits.
6. Periodically spice things up with original photos.
Randall West of TapSuccess.com says, "Search engines are tired of seeing the same old photos and ideas floating around the Internet. Google's spiders will give you points for an original photo, as most posts use photos taken from somewhere else on the Internet or stock photography that everyone uses."
When you do this, be sure to post the photo on Flickr.com or Instagram.com. When you do so, it provides a link from a highly ranked site, which will also help with your SEO. You should also give the picture a name that includes your keyword phrase. This will also make a difference in your SEO. And add your keyword phrase as an alt description. (This is where you tell the robots what the picture is.)
A person can look at a photo and tell that it's the Empire State Building, but a search engine spider can't. It needs your alt description. You can sneak your keyword phrase in at the same time. For example, let's say your keywords are 'retirement plan' and you have a photo of a piggy bank. Your alt description could be 'retirement plan piggy bank.'
If you follow these instructions, you'll have used your main keyword phrase in your blog five times between the headline, the body of the post, and the photo you've added. Your secondary keyword phrase will be mentioned twice in the body of the post. This will give your SEO a significant boost, and that means you'll be getting your blog in front of more prospective clients, which is great for business.
Mark Satterfield is the founder and CEO of Gentle Rain Marketing, Inc.  He specializes in working with consultants, advisers, and small businesses on how to get consistent streams of new business.  Since 1992, he has helped clients in financial services, insurance, health care, consulting, real estate, advertising, training, recruiting, and more than 75 niche industries grow their businesses without cold calling or hard selling. He is the author of "The One Week Marketing Plan".