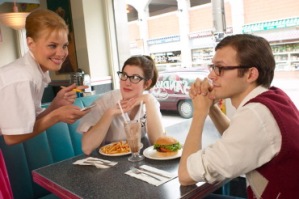 Customer service is an area of your business that you definitely don't want to ignore, whether you run a small business selling apparel such as the folks from FeminineRascal.com, or a bigger business selling vehicles like the Tilsun Group. After all, your customer service representatives are your customers' point of contact with your company. They're responsible for ensuring every customer is satisfied, that problems are resolved, and that you can retain customers who were once dissatisfied with your products and/or services.
So what can you do to improve your customer service department to ensure you can maintain great relations with your customer base? Continue reading for some tips:
Know How to Handle All Types of Customers.
The first rule to great customer service is knowing how to deal with a variety of customers. Some will want to ask a lot of questions, so you'll need to know how to be patient and address all of their concerns. Others will be extremely agitated if you did something wrong, so you'll need to know how to calm them down and deal with them without losing your cool. By understanding how to empathise with each type of customer, your customer service reps will be able to provide the same level of service to everyone.
Make Sure Your Customer Service Department is Available.
Many customers become extremely frustrated when they try to contact a company and fail to get a response or the customer service representatives are too busy or unavailable. This is the quickest way to lose customers. Therefore, make it a point to hire a team of highly qualified representatives who will be available, possibly even day and night, to answer questions by phone, email, and/or chat.
Make sure emails are answered in a timely fashion, so don't wait days or weeks to respond to a customer's inquiries or complaints. And post your customer service hours on your website so customers know when they contact you by phone.
Give Customers Opportunities to Provide Feedback.
Figure out ways in which customers can provide you with valuable feedback about their experiences with your business. For example, you can have them answer a few questions as part of a quick phone survey at the end of a call, or you may instead send out surveys via email that people can fill out within a few minutes. You can even offer incentives, such as discount codes or coupons, to get customers to fill out optional surveys and gain insight into your company's strengths and weaknesses.
Make Good Your Mistakes.
If you've made a mistake, such as selling a defective product, make good for it by providing the customer with a refund, a coupon, or some other incentive to come back. Otherwise, you could lose them forever and risk ruining your reputation.
Focusing on your customer service department is one of many ways to ensure your business will thrive. From hiring the right team of professionals, to giving your customers ample opportunities to voice their opinions, there are several methods that can help you stay in touch with your client base and make sure they're satisfied.