By Kaylee Wickline, inventor of the Potty Wiz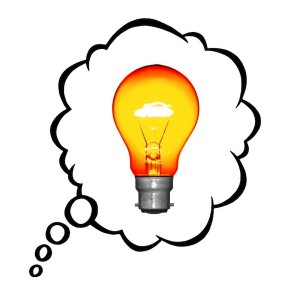 We've all been there – in the midst of raising your kids, you've likely stumbled across a parenting dilemma that made you think, there really needs to be a better way to manage this. Maybe it was just a thought, or maybe you came up with a great idea to solve the dilemma. Either way, the thought of moving forward with your thought or idea probably makes you a little nauseous when you consider all that's involved.
You likely have a million thoughts running through your head. "I can't do this," "I have no time to invent something," "No one would even buy my invention" and "I have no idea how to move forward with my idea." After all, bringing a product to market is a huge endeavor.
Despite these thoughts, rest assured that hundreds of other parent inventors have felt the same way yet they have pushed forward to bring to market a solution that makes parenting easier and are now successfully running or have sold a lucrative business. If you're like I was and have no idea where to start, here are some valuable lessons I've learned throughout my process of developing the Potty Wiz.
1. Get inspired.
One of my favorite things to do as an inventor is peruse the hundreds of products created by moms and dads. I spend days just browsing all of the ingenious inventions. Doing this has certainly inspired my own invention as it opens up your mind to think about all of the possibilities. It also solidifies that your idea just might work, despite your self-doubts.
A good place to find these inventions is through browsing the Huggies MomInspired grant program website where you can read about all of the past years' winners. You can also find some inspiration by googling "successful mom inventors." Other good resources to browse for inspiration are Mompreneur Mogul, The Mogul Mom, Mom Invented and Mompreneur Media.
2. Reflect on your own parenting issues.
The best product ideas are derived from a person's own personal experiences. This is especially true when inventing juvenile products. Most of the time, there is a problem the parent faces when parenting that there is no existing solution for – so the parent creates the solution.
To help you pinpoint this problem, think back through your parenting journey. What problem did you face that could be solved with a simple solution that doesn't currently exist? Is the problem a common problem that would be experienced by other parents? For example, I created the Potty Wiz as a solution to my own problems potty training my son. There were no products on the market that made potty training easier on both of us, so I designed the solution.
Be sure to check the market to make sure your idea doesn't already exist before wasting any more time. You can do this by searching on Google, but you should also search Google patents and go through all relevant patents for further confirmation that your idea is unique.
3. Invest in a provisional patent.
After you have come up with that really great idea, have determined there's a need for that idea through consumer research and have made sure the product doesn't already exist or infringe on an existing product, I highly recommend investing in a utility patent or a design patent. A utility patent protects the utility of your idea while a design patent protects the ornamental aspects of your idea. This can get confusing so you can read more here.
If you plan to pursue a utility patent, it might be in your best interest to first submit a provisional patent application. This provisional application is less cumbersome and less expensive and protects your idea for a full year. After a year's time, and once you determine how you want to move forward with your invention, you can choose to file for a full utility patent or trash the idea. Design patents do not offer the provisional aspect, however, so make sure before you file for a design patent that your design is exactly how you want it produced. Otherwise, it will be useless.
Many people will tell you not to waste money on a patent but I disagree. If you don't you most certainly risk someone else coming up with the same idea and capitalizing on it right away and you will lose out. I've seen it many times.
4. Take advantage of freelance websites.
One of the toughest parts of developing a product is finding a good product designer and a good manufacturing facility. I've talked to so many inventors who have just cold-called people all over the world, who have hired a liaison to find them an expert in another country, who have experienced so much stress and confusion associated with finding a designer and a manufacturing facility.
My golden nugget for developing a product on a budget has been freelance websites. I found my product designer on Freelancer.com who was also able to recommend a great manufacturing facility that he has worked with many times in the past. These freelance sites allow you to post your job and receive proposals from high-rated contractors/company representatives all over the world.
5. Consider hiring abroad.
I know more than anyone that many inventors want to hire within the United States. They want a product designer and manufacturing facility based in America. However, what many inventors and startups don't realize is just how much of a discrepancy there is in pricing between outsourcing projects or working within the United States. When I talk about discrepancy, I'm talking about 10-100 thousand dollar discrepancies. For a solo inventor or startup, the budget simply may not accommodate staying within the United States.
To ensure you're being as precautious as you can when outsourcing, I recommend using established freelance sites as mentioned in the last point. You can also seek assistance from other small businesses in your industry to see what companies they work through. Another option is using LinkedIn to search for reputable manufacturing companies and product designers in various countries.
Inventing and bringing a product to market is going to be one of the most arduous processes of your life, while also being the most rewarding and fulfilling journeys. Good luck, we can't wait to see your product on the shelves!
Kaylee Wickline is founder of the Potty Wiz, a multifunctional and transitional potty chair that accommodates the unique needs of both girls and boys unlike any other product on the market. Kaylee's company is committed to manufacturing innovative products that making potty training a simple, convenient, autonomous, stress and mess-free experience. Kaylee is also a writer, speaker and advocate for women in business.