By Genecia Luo, founder of Queenz*8 Business Group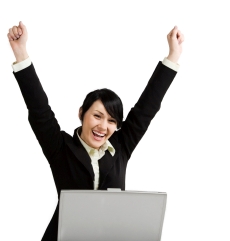 You know the quote that goes, "Whether you can do it or you can't, you are right"? The same can be said about entrepreneurship. It is as complicated as you think it is or, it can be as easy as ABC. I've learnt through my years in business that getting into the right frame of mind is the first step you have to take. There is no, "Oh, I'll do a bit and then see how it goes." You have to commit yourself wholly into the project and tell yourself you'll do whatever it takes to succeed.
1. The right mindset matters.
I think adversity is the best teacher.  No one likes to make mistakes, but the tough times are what will shape you as a person and build your character.  When things to go south, I tell myself: "Something good will come out of this mess."  If a business partnership doesn't work out, I just let it go and move on.  If I didn't do that, I wouldn't have met my current partners, whom I work very well with.  Another thing that women need to get over is the idea that "business is not for them".  Starting out and finding your footing is an intimidating process, but know that the learning curve won't always be so steep.  While being risk-averse isn't bad in itself, it can be a failing if it stops you from just going out and doing something.  The most important thing is to take action: Go online to find out more about how to start your own business, or attend a seminar.  Your road to financial freedom starts with a single step.
2. Set Realistic Goals.
This is to ensure that you don't deviate too far from your ultimate "prize".  Set goals based not just on what you wish to achieve, but also what you've learnt so far.  Take a good, hard look at everything that's happened and ask yourself: "What did I learn from this?  How can I do it better the next time around?  How can I leverage on my mistakes to grow my business?"  Know what you do well and make sure that those things are your responsibility in the business.  Do one thing perfectly, not 10 things poorly.  Take a single step at a time.  Don't let being busy lull you into missing out opportunities to growing your business and achieved your business goals.
3. Know the difference between being productive and being busy.
Productive is what sets your business in motion.  Women these days have a lot going on their lives, and it's so easy to lose sight of the big picture.  To avoid this from happening, it's important to set priorities.  It'd be really helpful to have mentors for different aspects of your life as well – they can help you stay accountable and on track.  Jugging multiple ventures will spread you thin and limit both your effectiveness and productivity.
4. Surround Yourself with Good People.
Surrounding yourself with the right group of people is the Key To Success.  The best entrepreneurs aren't the ones who think they can do it all on their own; it's the ones who aren't afraid to surround themselves with people who are smarter than they are.  People who you can bounce off ideas with and they are always there to motivate you till the very end.  Bring in a partner or hire someone to fill in your "business gaps" would allow you to more productive and efficient.  The people they recruit should be creative problem-solvers who are able to take ownership of their work.  This doesn't just ensure that work gets done in the most efficient way possible – it also creates an exciting, dynamic workplace that people would enjoy working in.  With that said, I have a couple of requirements before deciding if someone should come on board as a partner: (1) He shouldn't be in it for the money alone, because that means that he won't always make decisions that's in the best interest of business, and (2) The partner should bring something unique to your business.
5. Develop an Iron Will.
It still surprises to me that, to this day, a lot of women don't take charge of their money.  Many still rely on their partners to manage their finances, and I believe, from the bottom of my heart, that this has to change.  If they want to get into business, women need to realise that how much they make is entirely up to them.  There'll be good days and bad days, and you constantly need to remind yourself of what you want to achieve no matter how tough it gets.  Most important of all, you need to go with your gut instincts.  If there's even the slightest warning sign that something's not right, follow through with a thorough investigation.  Trust me, you'll be glad you did.  You see, at the end of the day, while we'd all like to make as much money as possible, it's not just about that.  It's also about dignity and self-respect.  Running a successful business isn't just great for the bank account but also the self-esteem.  Few things are more rewarding than knowing are more rewarding than knowing that you can do it, against the odds.
As a parting note, I'd just like to say: Don't let naysayers or detractors get to you.  There will always be people who try to drag you down, but don't let them.  Either find it in you to get rid of them, or use their stinging words as motivation to overcome the odds.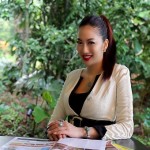 Genecia Luo is the founder of Queenz8 Business Group. The former beauty queen is now a successful entrepreneur with her hands in more than 8 businesses. She runs coaching classes for aspiring entrepreneurs and helps advise them on topics such as marketing and branding. Genecia recently opened a cafe at Rochester Park called Coffee:Nowhere, with hopes to eventually turn it into an F&B franchise. Read more about her ventures on www.GeneciaAlluora.com/youarepossible.