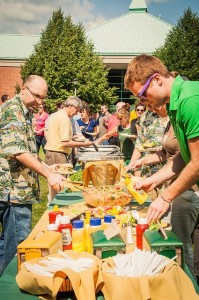 With summer finally upon us, local communities are busy getting geared up for annual carnivals, village fetes and music festivals.
Not only do these give residents the chance to enjoy themselves in the sunshine – well, hopefully! – they also provide businesses and charities based in the area with the perfect opportunity to promote their services.
Summer lovin'.
For those that are unsure about the best events to target, anything that's likely to attract a local buzz and a variety of visitors is ideal, as this will mean a broad range of people will be able to learn about your services.
It doesn't have to be sunny to attract crowds to summertime events, as the prospect of freebies and a day out is enough to entice locals to a fete or festival.
But if it is a hot day and you're lucky enough to have a spot in the shade, people are bound to flock to your stand to escape the heat of the sun.
However, they aren't likely to stick around if you've not got something interesting on offer to keep their attention and stop them straying elsewhere.
Get seen.
Everybody loves a freebie, even more so if it's functional. For charities and businesses, using giveaways to promote services is a fantastic way to inform consumers about what it is that you do and ensure you stick in their mind once the event is over.
If you've got a promotional stand at a day-long summer event, handing out tote-style bags is a great idea, as with British weather being so unpredictable, people may be after something to carry their umbrellas, sun lotion and picnic in.
Putting your organisation's name on a bag will get it seen by everyone who passes someone who's carrying one, making this an easy, but effective way to promote your company.
For hot days, water bottles emblazoned with your firm's name are a good way to advertise your organisation and will also help remind visitors to keep hydrated.
Badges are another good idea, as kids love them and pinning them to bags and shirts will get your charity's name seen by plenty of other visitors.
Handing out mugs, mousemats and USB sticks for consumers to take home after the event will ensure your company's name sticks in their mind and the latter will also provide them with a handy place to store any photos they may have taken throughout the day. 4imprint has a range of giveaway ideas on its website.
Be remembered.
While putting your name on freebies is a great way to advertise your organisation and encourage others to visit your stand, you should think about putting a few extra details on them as well.
Including your Facebook or Twitter handle will encourage people to check you out online, while giving out an email address will let people know how to contact you if they're interested in getting involved with the work your charity does.
However, if you're promoting your organisation at an event targeted towards older people, it might be best to include more traditional contact details such as a phone number and postal address to allow them to get in touch easily.
For those handing out bags, think about including a promotional flyer inside that will provide visitors with slightly more detailed information about your services.