by Alon Alroy, co-founder and CMO of Bizzabo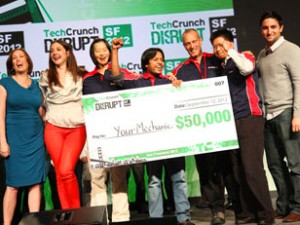 Conferences are a great way to meet industry professionals, explore the newest technologies and innovations in your industry and to receive tips and insight for your profession.  Below, we at Bizzabo have compiled a list of the 20 upcoming US tech conferences you must attend.  Hopefully we will see you there!
Approach the future from different angles at the FutureStack Conference.  Join others who code to change the world for the better and explore distributed computing, examine the confluence between businesses and technology, and debate the power of technology on urban development.  Tech-savvy minds, this is the conference for you.
Looking to launch your startup, raise money, and learn about starting a company? Then Launch Festival is the place for you! This three day conference has become the "must-attend" event for anyone who is active or new to the startup-community.
Computing is everywhere! GigaOM Structure aims tackle the challenge of understanding how to architect data centers, networks and applications along with the big questions emerging in computing and IT.  Are you up for the challenge?
Immerse yourself in the tech community at Techweek.  Techweek brings together a mixture of entrepreneurs, visionaries, and thought leaders for a week-long celebration of all things tech.
The DEMO conferences for years has served as the launchpad event for big name companies and has a well earned reputation for consistently identifying tomorrow's cutting-edge technologies. 
Be inspired by the tech world's latest web, mobile and social breakthroughs to create simple, life-improving technologies and viable businesses among a rich and diverse community of cutting edge developers.
Mobile Summit brings together the mobile industry's top 180 executives who will collectively debate how to accelerate adoption, engagement, and monetization via the six biggest growth opportunities in mobile today.
Attend the world's largest social media marketing conference of the year! By attending, you'll make connections with 80+ of the world's top social media pros (plus 2000 of your peers) and you'll discover amazing ideas that'll transform your social media marketing.
TechCrunch Disrupt is one of the most anticipated technology conferences of the year. Travel to the fabulous New York City to witness the reveal of an all new slate of outstanding startups, influential speakers, guests and more!
Whether you run or work for a small business, summer camp, an after-school program, or an ad agency, CRAZE Conference can help your business grow. The conference brings the top marketing, technology and social media professionals together to share their tips and tools on making the latest marketing trends work.  In addition, engaging keynote speakers, interactive breakout sessions and unprecedented networking opportunities will show you the best ways to grow your business.
Velocity is much more than a conference; it's become the essential training event and source of information for web professionals from companies of all sizes. Velocity is the best place on the planet for web ops and performance professionals like you to learn from your peers, exchange ideas with experts, and share best practices and lessons learned.
Innovation is at the core of everything we do. Innovation Uncensored, is a two-day master class from the world's most innovative companies for those who think of themselves as an innovative business leader in fields as various as technology, design, marketing, entertainment, venture capitalism, energy, infrastructure, non-profits and branding.
Don't miss the small business sales and marketing event of the year! Join over 2,000 entrepreneurs from around the world as they gather to learn, network and implement new ideas that will make their businesses more successful.
The 21st annual SXSW Interactive Festival returns to Austin from Friday, March 7 through Tuesday, March 11. An incubator of cutting-edge technologies and digital creativity, the 2014 event features five days of compelling presentations and panels from the brightest minds in emerging technology, scores of exciting networking events hosted by industry leaders and an unbeatable lineup of special programs showcasing the best new websites, video games and startup ideas the community has to offer. From hands-on training to big-picture analysis of the future, SXSW Interactive has become the place to preview the technology of tomorrow today
This summit is a two-day networking event for leading companies in the SMB space alongside entrepreneurs, venture capitalists, and investors to connect and share what they are working on and struggling with.
Rising Media's Data Driven Business conferences are designed to empower your business to strategize and optimize with data analytics. It is for anyone who is interested in Marketing Optimization, Marketing Optimization, Predictive Analytics, Big Data, Conversion or Google Analytics, Role of affiliate networks, Affiliate recruitment techniques, and any Data Driven Business.
After taking Inside Bitcoins to Las Vegas this past winter, this definitive Bitcoin event is returning to New York City, April 7-8 at the Javits Convention Center. Thought leaders will share their insights and knowledge on the implications of bitcoin, along with predictions on what lies ahead. Whether you're a venture capitalist, lawyer, technologist, entrepreneur, regulator, cryptographer, payment pioneer, or public policy expert, our agenda offers the latest intelligence for everyone and anyone interested in learning more about bitcoin
Developer conference & exhibition: Apps World will be returning to North America in 2014 for two days of engagement and high level insight and discussion around one of the largest growing industries – mobile apps. Apps World North America will be taking place in the tech capital of the world San Francisco on February 5th-6th February at the Moscone Center.
Global Strategic Management Institute (GSMI) is excited to bring you the latest social event, Social Media Strategies Summit (SMSS), now running for its third successful year in Las Vegas. Whether your organization is a start-up or a large enterprise, SMSS will provide you with relevant case study examples, interactive workshops and engaging sessions to boost your social media marketing efforts and reach your company's business goals.
Venture Summit Silicon Valley is the premier annual gathering of the brightest minds and top entrepreneurs, investors, and corporate players in the Global Silicon Valley. This one-day exclusive event treats attendees to a high-level debate and discourse on top trends and opportunities in the booming digital media and entertainment and on-demand and cloud computing sectors. Venture Summit Silicon Valley is taking place at the dynamic new Draper University, where participants can easily meet up, socially network, and make deals happen.
Alon Alroyis co-founder and CMO of Bizzabo, a startup developing the soon to be standard networking app for events, conferences and meetups. Bizzabo helps professionals discover new business opportunities at conferences and events, while enabling event organizers to promote their event and engage directly with their attendees.