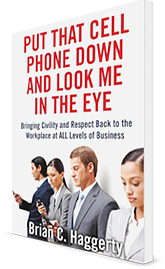 You're on what you expected to be on a romantic night out, but instead of putting his full attention on you your date has been fiddling with Facebook on his smartphone the whole night through. Or this – you're presenting your latest proposal but you can't seem to command the attention of your colleagues, who seem to be more interested in their mobile phones than the latest ideas you have. If you've ever been through these two scenarios, you know how frustrating it can get.
In fact, Brian Haggerty, author of "Put That Cell Phone Down and Look Me In The Eye: Bringing Civility and Respect Back to the Workplace at ALL Levels of Business", argues in his book that the mobile phone – as well as the rise of social media – have become so ingrained into our daily lives that rather than foster human relationships, they are endangering them to the point that civility and respect have pretty much disappeared from social norms.
This is especially so for the new generation of people who can't remember the time before the dot-com era and before mobile phones, one that can't seem to put away their handheld technological crutches and instead focus on the importance of good behavior, how to communicate and present themselves well, he asserts in the book.
But "Put That Cell Phone Down and Look Me In The Eye" is no one-man anti-technology Luddite crusade to turn people away from their technological follies. Instead Haggerty focuses on helping highlight the various soft skills and character traits he believes can help a person on their goal to success. For example, he stresses the importance of the qualities of punctuality, reliability, humility, kindness, respect and truthfulness, character traits that ultimately shape one's reputation.
And rather than bitch about how technology is taking over the whole world, Haggerty concentrates the meat of the book – granted, it's a slim tome – on presentation and communication skills that help shape the impression of others. You'll read nuggets of advice on dressing well, how to make an entrance, and thinking before you speak, those soft skills that help you build a commanding presence.
Much of the book is common sense, but seeing how the common sense of previous eras may not be quite so common in this day and age, "Put That Cell Phone Down and Look Me In The Eye" should be essential reading for young people who want to make a better impression at the workplace… or even at parties.