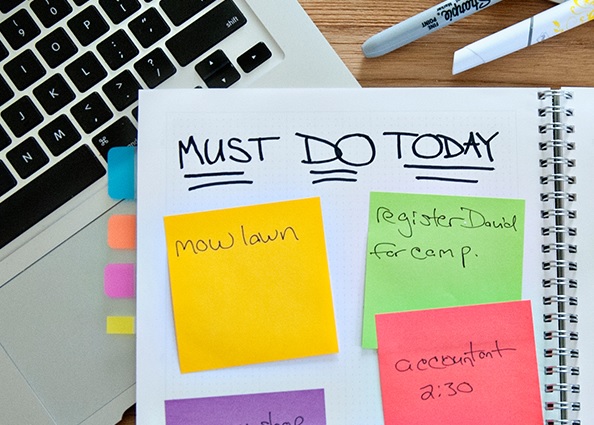 by Stacia Pierce, CEO of Ultimate Lifestyle Enterprises
Sometimes the most profound revelations, ideas, and experiences come in small, simple packages, like sticky notes. The little squares can be used in so many ways to increase your life, from rich reminders to awesome affirmations, you can use them to set goals and manifest your personal miracles in short periods of time.
Here are 5 powerful ways to use sticky notes:
1. Rich Reminders.
Sticky notes are the perfect size to hold one complete power thought that you may want to be reminded of daily. Often, I use sticky notes to remind me of my weekly income goals for the company. I can write the number on a sticky and put it on my laptop where I can see it often. Then as I work, I remind myself of the weekly goal and use it as motivation to reach it.
2. Success Scripts.
Write positive statements on sticky notes and put them in places where you will see them throughout your day. When you see them, read them out loud. Here are some examples:
On your refrigerator: "I always make the right food choices and keep up healthy eating habits."
As a bookmark: "I have superior knowledge to learn and apply this information."
On your desk at work: "Clients come to me daily!"
In your wallet: "I have more than enough and my accounts are always full."
In your closet: "I only wear the very best."
Use your sticky notes to prompt you to declare your positive affirmations throughout the day.
3. Boost Brainstorming.
Use sticky notes to plan your year, an event or for a new product. Sticky notes are the currency of ideas. They allow you to jot notes and ideas on paper, then move them around as much as you would like until you've found the formula. It's a fun, unrestricted way to think on paper and strategize during group meetings. During your next brainstorming session, bring in stacks of sticky notes and arrange your ideas on an open wall or dry erase board
4. Powerful Planning.
One of my favorite coaching exercises involves sticky notes.  I use them to attract new ideal clients into my business and life. One morning, I decided I wanted 10 new ideal clients. So I created a vacuum for my new clients by writing client, client 2, client 3, etc, onto separate sticky notes until I reached client 10. Then I wrote my ideal description to each one. I then posted the sticky notes on empty file folders, and placed in a cabinet that I left open to remind me of all of the new clients I was getting. This action empowered me to get more than 10 new clients who fit the descriptions that I listed on the sticky notes!
Who are your clients? Create your sticky note clients today. It's a powerful client magnet tool that works. Doing this process transformed my business in a big way.
5. Success Triggers to Accomplish Your Goals.
Over the years, I have found that creating daily success triggers is a great tool to keep you focused and on task while striving towards your goals.  Daily triggers such as posting sticky notes helps you achieve your goals by giving a consistent reminder of what you should be thinking about and working towards. The process is easy. You simply write down your goals (or about them) then stick them on your bathroom mirror, refrigerator, computer or desk. By seeing them every morning and night you will be triggered to begin to take action.
There is so much power in a note.  It can give encouragement; create order, and a plan of action to take. Make it a habit to surround yourself with this success trigger consistently and you'll begin to see more accomplishments in your life!
Aside from being a career expert, life coach and CEO of Ultimate Lifestyle Enterprises,  Stacia Pierce has proven her knowledge by writing 21 books, being featured on ABC News, FOX, CBS, NBC and hosting an annual conference, The Women's Success Conference, which attracts over 5,000 women annually. She was a top winner on Oprah's OWN Network contest with 7.6 million votes.