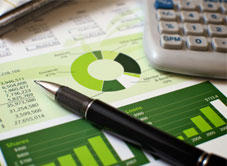 Every small business that has some success inevitably deals with various growing pains. This should not be treated like a disease to be avoided, but a problem that needs to be addressed. There is an initial period of time when owners of startup businesses wear many hats as salesperson, accountant, researcher etc. – all necessary to run the business.
While doing all the work yourself gives you reassurance that everything is being done the way you want it, growth leads to complexity. As a result, even the most routine of business tasks eventually becomes too much for entrepreneurs to handle themselves. There is probably no area in which this applies more than bookkeeping.
One of the most common trends the past two decades in business is outsourcing. Global economies dictate that companies become lean and efficient, focusing only on core activities. If a company sells widgets, then many tasks not directly related to widget sales get outsourced to a third party. This has led to operations that companies used to do internally like legal work, IT and manufacturing, being performed by outside vendors.
When it comes to utilizing bookkeeping services, small businesses can reap some of the same benefits that the large companies do when they outsource non-core work.
Entrepreneurs who don't outsource bookkeeping often spend several hours per week organizing and tracking data from paper records. Having someone else do that work frees up time for the owner to get more customers and provide the goods or services the business advertises. Auto repair shops can focus on fixing cars and salons can focus on doing nails and styling hair.
An outside provider, by virtue of their expertise, is able to do bookkeeping much faster than a non-specialist. Many vendors have taken this a step further, streamlining the process of obtaining data from paper records, using scanning software with OCR technology that captures the information faster than entering it by keyboard.
Expertise that bookkeeping providers have not only allows them to handle the volume of work faster, but also identify areas where companies are losing money. Overwhelmed business owners often incur late fees and penalties from failing to pay bills on time. They are also ill-equipped to uncover other avoidable expenses like duplicate purchases. Bookkeepers are skilled at finding these wasteful expenses and eliminating them.
Compliance with regulations and government agencies like the IRS are also areas where bookkeepers have an advantage over do-it-yourselfers. Fines, penalties and even jail time are all possible outcomes from improper filing of returns and paperwork. A bookkeeper knowledgeable in a specific industry will be aware of new laws and the ensuing compliance issues businesses must respond to.
The tendency of many owners to avoid letting go of certain tasks while running their business is certainly understandable. Entrepreneurs by their nature think that they have a better idea when it comes to starting a business, so it's only natural they want control over as many aspects of a business as possible.
Doing everything by yourself unfortunately is usually not scalable as a business grows, hires employees and becomes more complex. Using outside bookkeepers may have initial costs that owners want to avoid, but in terms of money saved by avoiding waste, late fees and regulatory penalties, they cost much less in the long run.