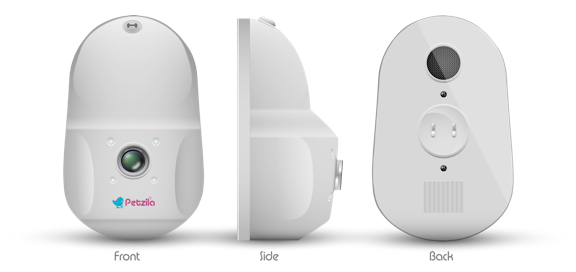 Human parents will spend any amount to pamper their children… even those of the dog variety. Earlier we highlighted the FitBark, an activity tracking system and mobile app that you use on your dog to record their physical activity around the clock (incidentally Fitbark has just relaunched their funding campaign on crowdfunding site Indiegogo).
But here's another pet monitoring device for your consideration – PetziConnect is a webcam-type device that lets you check in on and even interact with your dog at all times. PetziConnect essentially provides a real-time video and an audio connection from your smartphone to the device, so that you can talk to your dog even if you're miles apart. Simply touch a button on the phone app and the PetziConnect gadget can even dispense a dog treat for Rover.
Think this is a mere frivolity? Well, there are around 70 million dogs in the United States, and according to a study by drug maker Eli Lilly, 10.7 million of those canines actually have separation anxiety. That's a big enough market, no?