by Joyce D. Tucker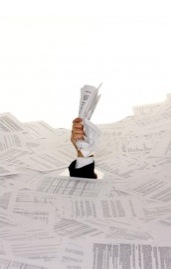 From medical records to I-9 forms, the human resources department of any business, large or small, is probably cluttered with paperwork. Even if you keep records digitally, you may wonder how much storage space you need to devote to records that are years old.
On the off chance that your company may one day face litigation regarding an employee, it's essential you know how long to keep these records.
Outsource to Experts.
The task of determining which records to keep can be overwhelming, so ask for help from HR consulting. A professional employer organization (PEO) can step in and organize your entire HR department, at whatever level would prove most helpful to you.
For example, a PEO can be solely in charge of sorting, filing and maintaining paperwork. They can provide guidance and give presentations to your existing HR staff on the subject of personnel records. You can also outsource your HR department to a PEO entirely, leaving the hassle of deciding how long to keep paperwork in the hands of professionals. Since you're the client of the PEO, count on getting the exact kind of assistance that will most help your business.
The Importance of Keeping Paperwork.
Why keep HR records at all — especially if some employees have moved on from the company? There are many reasons to keep HR paperwork easily accessible, including:
Employee reviews
Medical claims
Payroll
Litigation, from employees who were let go or who claimed to be injured or harassed on the job
When it comes to the records your business keeps, it's better to keep more paperwork for longer than necessary than to get rid of records you may need in the future; however, if the amount of records kept in your office is overwhelming, this can make your records difficult to navigate and organize.
What to Keep and How Long.
According to HRMorning.com, you might not realize you needed to keep HR records until after you face litigation. As a rule, you might be able to destroy records after a certain number of years, including:
Occupational, Safety & Health Administration (OSHA) logs: After five years
Leave records: After three years
Payroll records: After three years
Immigration (I-9) forms: After three years (or, if the employee stayed fewer than three years, after a year)
Equal pay record: After two years
Employee Retirement Income Security Act (ERISA) records: After six years
Medical records: Keep (and store separately to ensure there's no medical discrimination)
Most everything else: After one year
Of course, you do not have to destroy any of your HR records if you choose. If you have the space available and can come up with a system to organize your paperwork, you can save your records indefinitely.
Protect Your Records.
Accessibility to your HR records must be secure. As the business owner or head of the HR department, you need to access HR records, but general employees should not be able to look at other employees' records. Store all paper copies in a locked cabinet in a room that's locked when not in use. If you store copies of records digitally, restrict access with passwords.
Tornadoes, hurricanes, earthquakes and other natural disasters can destroy your records, so back them up. Requesting the help of a PEO is a simple way to ensure you have confidential records backed up off-site. If you rent a storage facility, you have no way on ensuring that those records are kept safe.
Keeping records of employees is essential: not only for the day-to-day operations of your business, but in case of litigation, too. Err on the side of caution when it comes to maintaining records. If you don't like devoting the excess space to the paperwork, scan it all in and save copies digitally. Alternatively, you can outsource HR tasks to a professional employer organization, and rely on them to maintain and update your records.
Joyce D. Tucker is a contributing writer and small-business owner. She recommends National PEO to any business owner looking to streamline their HR departments.