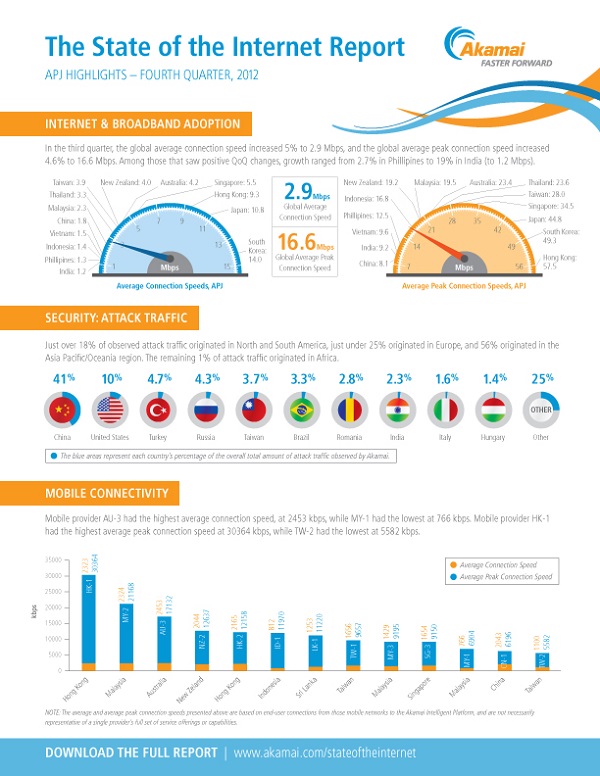 According to data in the latest State of the Internet Report provided by Akamai Technologies, 56% of all malignant traffic observed by its customers – such as Distributed Denial of Service (DDoS) attacks – originate from the Asia Pacific/Oceania region, with China contributing a full 41%.
In 2012 Akamai tracked a total of 768 DDoS attacks, up more than 200 percent from 2011. Of those, 35 percent targeted companies in the Commerce sector and 22 percent focused on Media and Entertainment companies. Enterprise companies, which include financial services, were subject to 20 percent of reported attacks; 14 percent targeted High Tech and nine percent of reported attacks were directed toward Public Sector agencies. The 768 attacks were reported by 413 unique organizations, indicating that many organizations were targeted more than once – some significantly more.
Akamai maintains a distributed set of unadvertised agents deployed across the Internet that log connection attempts, which the company classifies as attack traffic. Based on data collected by these agents, Akamai is able to identify the top countries from which attack traffic originates, as well as the top ports targeted by these attacks. It is important to note, however, that the originating country as identified by the source IP address may not represent the nation in which an attacker resides. For example, an individual in the United States may be launching attacks from compromised systems in China. For the case of China, this can mean that either attacks do originate from the country itself, or that many of its systems have been compromised to some extent.
Here are other interesting Asia Pacific highlights from this quarter's report:
– The top three countries/regions in the Asia Pacific region (and in the world) with the highest average connection speeds were South Korea, Japan, and Hong Kong,
– While Vietnam's average connection speeds grew at an impressive speed 17% from Q3 to 1.5 Mbps, it tracked an overall decrease of 6.5% year on year,
– Indonesia led the region with an impressive 86% yearly increase for average connection speeds and an increase of 153% on average peak connection speed to 16.8Mbps,
– Australia was the only country in Asia to track a decrease of 28% (year on year) for its average peak connection speeds, and
– For broadband connectivity, strong quarterly increases were across Singapore, Thailand, China, Indonesia, and Vietnam, which all had double-digit percentage growth.
It's also interesting to note from the infographic that despite the claims of its telecommunications providers, Singapore ranks relatively lowly in the Asia Pacific region as far as mobile connectivity speeds are concerned, with its best performing provider outpaced by those from Malaysia, Indonesia, and even Sri Lanka.
For more information, check out the report.