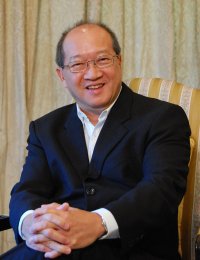 If you're an aspiring entrepreneur looking to start a business but have no idea how or where to start, you may want to consider attending this upcoming sharing session on May 3, 2013 called "How I Started A Business And Grew It To A Public Listed Company" by Boyd Au.
You may not find the name familiar, but Boyd co-founded electronics firm Enzer Corporation and was its CEO from 1984 to 2007. During his term as CEO, he listed the company in the Singapore Stock Exchange, brought Enzer products to 33 countries, and helped Enzer won the Superbrands for three years straight. After exiting from Enzer Coporation, he's now an investor at his firm, 7 Notes Capital.
So, why is it important to learn from him? Consider that when Boyd started Enzer, he didn't have any tertiary education, he didn't have any business education, and he didn't have much money. In fact he co-founded Enzer Corporation with a mere $5000.
So he is not teaching you off some high horse made out of Ivy League degrees, abundant inheritance or powerful family connections. He understands the struggles you go through, which makes his advice valuable and applicable.
With over 25 years of real business experience in a widely successful company, he can teach you how to solve problems like:
1. "Should I change my idea or should I continue doing what I am doing?"
How to start working on your business idea
Testing out different ideas
Evaluating ideas
2. "How to I reach out to more of my customers?"
How to acquire customers
Finding where your customers are
Communicate with your customers
3. "What are the right things to do as an entrepreneur?"
How to be a successful business owner
Make your business bankable
Make good business decisions
He'll be sharing actionable, practical tips and real life examples.
Sign up or find out more about the session here. The session originally costs S$79, but Young Upstarts readers get a 5% discount and pay only S$75.