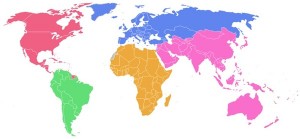 Small and medium enterprises (SMEs) in Singapore facing critical challenges in doing business in-country – with its manpower crunch, high rental costs and small domestic market – may want to consider exploring participating in the global e-commerce market, says PayPal.
With analysts expecting total trade volumes from traditional export channels in 2013 to remain flat, local SMEs are likely to be forced to find new sources of business growth elsewhere especially when faced with rising business costs. But the global online payment service provider (conveniently) highlighted a bright spot – that Singapore SMEs have the potential to be successful case studies for online commerce with the rest of the world.
Let's take a look at some of the cross-border trade data provided by PayPal:
Figure 1: Despite a flat growth rate for traditional exports in Singapore, PayPal merchants take advantage of high-growth online export opportunities to Asia Pacific markets in 2012.
Figure 1 shows that PayPal merchants in Singapore grew their businesses significantly faster by using cross-border e-commerce to export to Asia Pacific markets in 2012, increasing online export sales on average by 68% to China and by 55% to Hong Kong. Demand for Singapore-made goods remained strong in the larger Asia Pacific markets, growing on average by 22% to Japan and 20% to Australia.
What have we been selling? The top export categories from Singapore in 2012 were travel, computers and accessories, electronics, and entertainment & media, with top mobile commerce categories (i.e. buying off a mobile device) being jewellery, fashion, cameras, mobile phones and sports equipment.
 Figure 2: Online overseas shopping by Singapore PayPal users continued to accelerate, with Japan, Australia and UK as the fastest-growing overseas shopping destinations in 2012.
Figure 2 on the other hand reveals an uptake in overseas online shopping by Singaporeans in the past year, boosted by a strong Singapore dollar. Local PayPal users continue to love shopping in the USA (14% growth) and China (15% growth). Interestingly, the fastest-growing overseas shopping destinations include Japan (35% growth), UK (32% growth) and Australia (32% growth).
"Our data and insights clearly show that Singapore SMEs have a fantastic opportunity to reach out to millions of consumers globally and aggressively expand into overseas markets through cross-border e-commerce," said Faraz Ahmed, General Manager, PayPal Southeast Asia and India. "Furthermore, with recent government initiatives geared at supporting SMEs looking to expand beyond Singapore, we believe there is no better time for them to capitalize on the high-growth online export channel, especially during these tough economic times."
Merchants like Manek-Manek Beads are leading this online exporting trend, making significant headway around the world through cross border trade.
"What started as a hobby during retirement to share my passion for beading with everyone has now grown to an online business that caters to customers from all over the globe. Almost 90% of our transactions are made outside of Singapore," shares Helena Tang-Lim, The Manek Lady at Manek-Manek Beads.
Global e-commerce can be a whole new world, but it's certainly something for local SMEs to consider.