[Singapore] [Infographic] Female Professionals Value Work-Life Balance As Much As Money: LinkedIn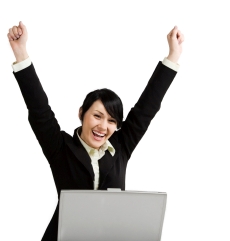 Money may make the world go round, but for female professionals in Singapore that is not the end-all and be-all of life.
According to a survey conducted by online professional network LinkedIn which surveyed 400 female professionals in Singapore to learn about the challenges that women face in their careers and how they view success, these women professionals valued work life balance (58.3%) as much as money or salary (57.8%).
Here are some of the findings from that "What Women Want @ Work" study (which covered more than 5,000 working women across 13 countries):
– More female professionals in Singapore defined professional success as having the right balance between work and personal life (58.3%), compared to earning a high salary (57.8%),
– A more flexible work environment was selected as the top factor in determining the 'success of the next generation of professional women',
– Two-thirds of the respondents believe that they can 'have it all: a fulfilling career, relationships and children',
– Lack of a clear career path and inequality in pay were cited as the major professional challenges for most women, and
– 15.5% of respondents have used looks to their advantage in the workplace before.
Compared to global work attitudes, however, women professionals fall short of their counterparts around the world. Although women in Singapore generally feel confident about their careers and upbeat about their ability to have fulfilling work and family lives, of the 400 respondents in Singapore, 67.3% consider their careers 'successful', while two-thirds of them (67.5%) believe that they can 'have it all: a fulfilling career, relationships and children'. This is below the global average of 77.4% and 74.1% respectively. On the other hand, Singapore policymakers looking to boost the country's TFR (total fertility rate) has something to cheer – the study found that two out of three (63.5%) of those currently without children plan to slow down their careers when they have a child, compared to a global average of 42.7%.
"Employers in Singapore can gain significantly from learning about what women want, given that a considerable percentage of the workforce here is made up of females, with many also holding leadership positions," says Feon Ang, Director of Talent Solutions for Southeast Asia and Korea at LinkedIn. " It is quite clear that to women, attractive pay and positions of power hold less significance. Instead, workplace success is about having an interesting and fulfilling job and being able to achieve the right balance between work and personal life."
Here's an infographic that shows you more:

Daniel Goh is the founder and chief editor of Young | Upstarts, as well as an F&B entrepreneur. Daniel has a background in public relations, and is interested in issues in entrepreneurship, small business, marketing, public relations and the online space. He can be reached at daniel [at] youngupstarts [dot] com.