by Bruce Piasecki, author of "Doing More with Teams: The New Way to Winning"
It's hard to believe, but the great Michael Jordan turned 50 this past weekend. When you recall him soaring (and scoring) again and again — as effortlessly as breathing — it's not hard to see why millions of fans revere him as the greatest basketball player of all time. While Bruce Piasecki is a big fan, he tends to view Jordan a bit differently from most. What interests him is not Jordan's sheer athleticism and many victories, but what Jordan in context can teach the business world about teamwork.
To me, Michael Jordan's career, especially during the Chicago Bulls years, is a shining example of how the best teams operate. I've long believed that the team is more powerful than the individual — even when that individual is someone as immensely talented as Jordan.
Teams expand the human experience. They extend our wings in practical, pragmatic, and measurable ways. People who would not normally be able to succeed alone — the planners, the doers, those who lack the internal spark to market themselves — can reap the benefits of success in the context of teams.
It was pure pleasure for a decade to watch how Michael Jordan fit his court family, which was deep and full of different personalities like the quiet Scottie Pippen and the very outrageous Dennis Rodman. The beauty of this team was that its members worked together in a way that allowed everyone to learn together where they fit while working for the common good.
Similar dynamics play out on the "courts" of the business world every day. And when teams are well constructed with the right mix of talents and personalities — and well governed by leaders who recognize the most important capabilities in their people and facilitate them for the good of all — companies achieve, grow, and prosper.
Teams are more important in a global economy than they've ever been before. Standing out in a crowded marketplace takes constant innovation and the ability to get fast results. With the complexity of today's workplace, even the most brilliant individual is not likely to have the skill set to take projects from start to finish. The ability to collaborate is everything… and that requires high-functioning teams.
Here are five lessons on teamwork leaders would do well to heed:
Fierce individualism has no place in teams.
We don't think of the Chicago Bulls as "Michael Jordan's team" (as evidenced by the aforementioned synergy with Pippen and Rodman) despite Jordan's superstardom. Contrast this with, for example, our propensity to use the phrase "Lance Armstrong's teams" — as if the disgraced cyclist's entire team (Team RadioShack being the most recent) was there only for him. When we pin all our hopes on a single individual and ignore the context in which he or she operates — and especially when we allow MVPs to bully everyone else into submission, as too often happens — we are doomed to be disappointed.
Youth and ability have a way of fading over time. Youthful arrogance, due to its fleeting nature, is no foundation on which to build a future. We need the shoulder strength of teams to keep us competent. And as leaders we need to be always on the alert for MVPs who might be losing sight of the team that gave them an identity — the group with whom they worked to produce the fame for which they are now known. It is in such situations that workplace ills such as favoritism, sexism, and even criminal activity like embezzlement tend to flourish.
What 'practical' advice do I have? Seek to hire 'coachable' individuals rather than individualist-minded high performers. Do everything possible to promote and reward teamwork rather than individualism. Whether your efforts are centered on pay structure, group incentives, verbal recognition, or some other technique, seek always to send the signal that it's strong teams (not strong individuals) that make up a strong company.
Ceaseless victory is a fantasy. Teams must keep a healthy sense of perspective.
Obviously, every team Jordan played on lost their share of games. So will yours. But do they truly realize that on a visceral level? I associate the belief that one can win every game with the belief that one will be young forever. Obviously, neither belief is true — however much we may long for them to be. The desire for ceaseless victory is especially futile in an incredibly complex global economy where the rules constantly shift under our feet and the competition is endless. This is why it's so important that our teams realize that long-term survival is, in itself, a tremendous victory.
Michael Jordan was quoted as saying, "To learn to succeed, you must first learn to fail". He is not alone. The great CEOs, the well-compensated doctors, the best in hospital administrators, and the legendary leaders of colleges are not people known to expect ceaseless victory. They are great competitors because they come to accept that we cannot always win. Indeed, only through loss can we grow and improve.
Leaders must instill in teams this tolerance of losing. In word and deed we must convey that failure is a part of life and thus a part of business. We must model this truth by allowing our own weaknesses, flaws, and vulnerabilities to show. We must refrain from punishing teams who give it their best shot yet fall short of victory. And after a defeat, we must insist that employees 'get back on the horse' as team players and ride full-tilt toward the next contest. In this way the pain of loss will naturally dissipate.
Great teams revel in the pleasure of persistence and the sheer thrill of striving.
Jordan himself is quoted as saying, "I can accept failure; everyone fails at something. But I can't accept not trying." Obviously "trying" is a virtue, but it's more than that: It's a source of great satisfaction. Once we've accepted that defeat is a part of the journey, there is great fun — yes, fun — in knowing that we will stumble and fall from time to time, yet get up, and try again, with some success. Another way to say it is this: Accepting the reality of our imperfection takes the pressure off. Then, and only then, do we free ourselves to feel the pleasure of persistence and the sheer thrill of striving.
It's critical to teach teams to be well prepared for assignments and to keep going in spite of hardship. When my company enrolls an executive in leadership training, we emphasize the following lessons of teamwork:
How to play through pain
How to resist the criminal opportunities inherent in becoming an MVP
How to keep your feet on the ground despite being a member of special teams with special force
How to outlive uncomfortable appointments, such as when your boss has selected you for teams that are a bad fit, and how to behave when you are chosen for teams you do not want to play on
In the end, all of our training is about the pleasure of accomplishment in teams. Life can be a tough slog, and victories are sporadic at best. Maybe we can't win but we can keep going. This striving brings with it its own unique rewards. It is up to us to learn to appreciate them. In a world full of pain and blind ambition, the pleasure of accomplishment may prove the most reliable path to make the great reliably greater.
What makes teams successful is a sense of commonality, shared values, integrity, and a commitment to one another.
One of the most touching anecdotes from Jordan's career was described as follows by Bryan Toporek in BleacherReport.com's "Celebrating Michael Jordan's 50th Birthday with His Top 50 Career Moments":
All weekend leading up to the 2003 All-Star Game, Michael Jordan kept refusing his teammates' offers to give up their starting spots for him.

Finally, right before the game, Vince Carter convinced Jordan to start in his place, as this would be Jordan's 14th, and final, All-Star appearance.

He received a standing ovation at halftime that seemed to last forever, with many of the players on the court just as excited as the fans.
In preparing for a team event, or in becoming a member of a team, a transformation occurs where team members end their individual associations and create a team identity through sharing with others the experience of that process. Once the team is created, a strong bond is already in place from that preparation, from the obstacles everyone had to overcome to get there. Stories like this one suggest that Jordan and his teammates "got" this sense of team identity and felt the strong bond.
When joining the military, everyone has a crucible, basic training, which really isn't basic at all and is usually the hardest experience to get through. The crucible is something all members have to overcome to be part of the team. They shave all the soldiers' heads to take away their individual designations and rebuild them as team members, reshape their identities into a shared identity.
We have many ways to create bonding experiences in business. There is nothing wrong with off-site team-building events or weekly social gatherings — the more people are together the better they get to know each other — but there is no substitute for 'real-world' work. Bring people together often so they can share their progress, brainstorm ideas to keep projects moving, and generate the synergy needed to move from being a collection of individuals to becoming an interconnected, mutually dependent team. Great teams mourn losses together. They celebrate success together. Always, they share information and hold themselves accountable to the team.
The right "captains" can help us build powerful teams.
Would Michael Jordan and his teammates have been so successful without UNC's Dean Smith, the Chicago Bulls' Phil Jackson, and all the other "captains" who played a role in their stories? Doubtful. It takes a certain type of leader to create not just a loose affiliation of fierce individualists but a true team. My definition of a captain is someone who can rapidly recognize the key capabilities of their team members. They are able to see the capacity for harm and evil and quickly disarm it. And on the other hand, they recognize the capacity for generosity and quickly put it to use in building up other team members and generating momentum. In this way they build teams that balance the negatives in each member, making a stronger and better core.
Captains also treat their team members with a kind of fierce immediacy, and they achieve team coherence and team integrity in the process. Captains do not take the time to — as I heard from several military sources — 'wait for solutions.' Instead, 'they seek possible solutions and test them on the fly.'
All of which brings to mind a big question: Are captains made, or are they born? Personally, I think the answer is 'both.' In my work I have found that many leaders have the raw material to be captains. They simply need to be nurtured and developed in ways that coax forth their inherent noble qualities and bring them to full flower.
Invest in your captains. Choose them well and use them wisely. Give them authority to align and make accountable those capable of evil, harm, and generosity. They will bring the results and the profits you are looking for. And along the way they will empower your people to extend their wings and soar — yes, much like Michael Jordan himself — in the magic that only teams can generate.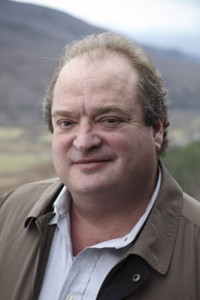 Dr. Bruce Piasecki is the author of "Doing More with Teams: The New Way to Winning", and president and founder of AHC Group, Inc., a management consulting firm specializing in energy, materials, and environmental corporate matters. His other books include Nature Society's book of the year "In Search of Environmental Excellence: Moving Beyond Blame", as well as recent New York Times, USA Today, and Wall Street Journal bestseller "Doing More with Less: The New Way to Wealth".