If you're looking to work with – or get fired by – one of Asia's billionaires, you may want to know that The Apprentice Asia is finally set to hit this part of the world.
Modeled after the familiar U.S format – which featured Donald Trump – the Asian version, helmed by reality TV guru Mark Burnett (of The Voice and Survivor) and FremantleMedia Asia, which has produced various hit reality TV series such as Idol, The X Factor as well as the game show The Price Is Right, will see various contestants from around Asia vie for a position with Malaysian entrepreneur Tony Fernandes of AirAsia fame.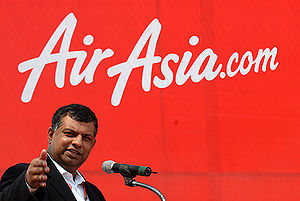 We originally announced the news earlier this year, but it looks to have been postponed till now. Registrations are currently open (you can download the application form here), so if you fulfill the critiera (aged 21 and above, currently living or working in Asia with a valid passport of at least six months and are well versed in English), this may be the job you're looking for.
Registrations end this weekend, so register now.