[ADV] DesignCrowd Enters Asian Market – Great Opportunity For Singapore Designers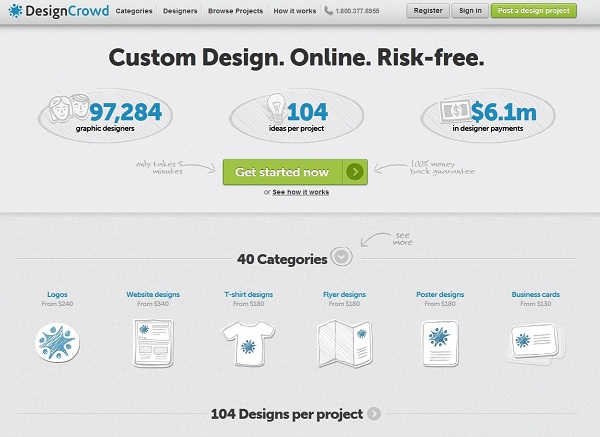 DesignCrowd is a renowned crowdsourcing platform that houses more than 95,000 skilled graphic designers from all over the world. DesignCrowd is the one stop solution for different kinds of graphic designing like website, logo, brochure, flyers, T shirts, business card or even banner advertisement. Instead of persistently searching for an expert designer, post your requirements in this platform and get access to a large number of options to choose from.
Worldwide network.
Irrespective of the geographical location, anyone can post their projects in this platform and it will be ready within a weeks' time. All the clients need to do is: make the payment for the project through PayPal and thereafter post it in the platform. The interested designers will automatically reply to it. The creative designs will be mailed to you directly. In case the client wants some alteration, they can communicate with the designers through DesignCrowd and get the modifications done. The clients need not worry about the money in case the replies do not meet up with their anticipations. DesignCrowd assures them 100% money back offer under such circumstances.
Thriving community for designers.
Just like clients from any part of the world are welcome to this community, even skilled and professional graphic designers belonging to any nationality are also welcomed to join this thriving forum and make some positive contribution in this field. Graphic designers from small republics like Singapore and other Southeast Asian countries can also become proud members of this forum and get worldwide exposure. Signing up is totally free for the designers and then they are going to come across hundreds of projects in their expertise to work in. The graphic designers are guaranteed the best payout in the market. So along with bigger exposure they are also going to earn good remuneration.
Confidentiality guaranteed.
The logo design projects submitted by the clients will not be displayed in the search engines if they choose for the 'Private Project' option. The brief of the project can only be seen by the registered designers. Therefore, contenders of the clients will not be able to know about a company's future plans.
Flexible option.
The clients have the option of choosing between all the designers present in this platform and some experts for the completion of a particular project. The designers have the discretion to open a project before all the potential designers or invite a few of topnotch for the completion of their assignment.
Important facts to consider.
This platform provides 24×7 online customer support to all the clients, they have the option of connecting through phone or live chat support in case of any trouble or email them. All their queries will be resolved within the minimal time.
All the designs that are posted by us are quality tested so the clients can rely on it. Only competent designers are a part of this community, therefore the works submitted by them are absolutely genuine.
All these factors make DesignCrowd the best community for logo creation. In case you are in need of any sort of graphic designing for your online platform, you can trust this platform totally. You are going to come across at least twenty five innovative designs to choose from.

Young Upstarts is a business and technology blog that champions new ideas, innovation and entrepreneurship. It focuses on highlighting young people and small businesses, celebrating their vision and role in changing the world with their ideas, products and services.