by Monica Shepherd, TradeGecko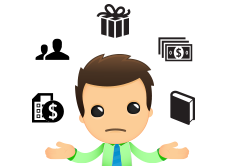 Are you in control of your business?
I don't mean are you the person calling the shots. I mean as in, if you had to make some critical snap decisions, do you know your business well enough that you could you make them with total confidence?
In order to be able to make these sound, informed business decisions you need an accurate and efficient operating system.
The need for stream.
If you are not in a position to hire more personnel to manage different areas of your operations then it's likely you're still the wearer of various hats within the business – meaning you need a streamlined system that makes business operations as easy as possible, takes minimal time for you to manage and effortlessly keeps you in control. At the same time, if you do have staff, trusting them to take over work with the same standards and expectations as you can be hard, which is another reason why straightforward streamlined systems will make it easier for you and your employees to maintain effective and efficient business operations.
The demise of the spreadsheet.
When you started out, a spreadsheet may have been a sufficient system for managing your database, inventory and finances, after all, it was likely a system that you set up and understood. However as your business grows and evolves, you're going to need a system that grows with it, and one that can easily be managed by various personnel in various departments of your business – at the same time.
Spreadsheets may seem like a straightforward system – they're easy to access, easy to alter, and easily shared within an organization. But it's these same qualities that actually also demonstrate their downfalls – they're easily modifiable by different people, causing discrepancies and a wide margin for error.
Spreadsheet weaknesses:
Not suitable for large volumes of data
No audit/tracking process for changes
Formula errors lead to major discrepancies
Often multiple-handlings of information before input
Limit to the number of records you can keep
Potential for entry errors which are difficult to track and resolve
Only one user can access the 'latest' version at one time.
Decisions, decisions.
Business decisions need to be based on reliable, relevant, insightful data and reporting, so when it comes to timely decision making or in-depth analysis, spreadsheets certainly do not lend themselves as the best option. Overwhelming data and time pressure to analyse it all will lead staff to make rushed, uninformed decisions leading to errors, stock imbalances and second-rate performance.
Up with the trends.
If I haven't convinced you to ditch the spreadsheet yet – this might be the clincher. Does your spreadsheet allow you to see trends and forecast at a glance? Is this not ultimately how you can take the reins of control to steer your business in the right direction? This is where accurate and insightful reporting on performance, finances and stock is invaluable – so what you need is an automated system that presents exactly what you need to know, instantly.
The No-Spreadsheet Solution.
I know you're probably thinking that a customized database or inventory management system is out of your budget. But this is where online software such as TradeGecko's inventory and sales management system provides an ideal solution.
Sales inventory software:
Pulls together your sales cycle into one central system that all your team can use
Real time information with automated processing – no manual formulas or room for errors
Allows you to maintain full visibility and control of stock levels – easily review stock, orders, movement and audits
With sales reports and analytics you can quickly make educated business decisions based on your previous sales data
All customer data in a centralised system – review purchasing and billing history at a glance
Time efficient, easy to use system that can easily be accessed by different departments in your business
Work smarter.
A sales and inventory management system should allow you to complete sales orders, invoicing, sales reports, stock control and purchase orders all from one central, simple, well designed system that can be accessed by various users at the same time. You can trust that your data is secure – in fact it is safer stored with them than on your own machine or server. Best of all, these solutions can be integrated with other cloud software such as Shopify and Xero. One more thing – they're scalable, meaning that the system can grow and change as your business does.
Where to start?
Now that you've come to your senses and have decided to upgrade your businesses back-end, you're probably thinking "where do I start?".
Most, if not all inventory & sales management solutions, come with a free trial. We recommend starting a trial and testing it for yourself. Put some time aside and do it, because it's so important for the growth of your business.
Monica Shepherd is one of the core TradeGecko contributors who specializes in business to business related advice. Monica also runs Mark My Words Ltd, a New Zealand based company that helps developing businesses with their content strategy, SEO and marketing voice.