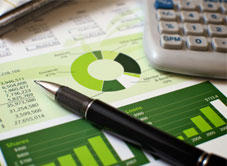 by Monica Shepherd, TradeGecko
It's a no-brainer that keeping track of your incoming and outgoing finances is a critical part of not only keeping your business running, but also of ensuring your business grows and prospers. Therefore you need accounting software that reflects an effective and efficient business – meaning, you're going to have to upgrade from that spreadsheet.
Accounting doesn't have to be an arduous task. There are numerous straightforward accounting solutions available that can cater for the various sizes and stages of your business.
How does online accounting software work?
Being cloud based means that your accounting software is available 24/7, anywhere that there is an internet connection (as well as through applications for smartphones). Your online system can also be linked to bank feeds for up-to-date and accurate syncing with your accounts, which makes for super easy reconciling. The data itself is backed-up off-site, so safer than storing on your own computer system.
The benefits of an online business accounting solution:
Real time, anytime
Minimises data entry and handling
See your finances – incomings and outgoings – at a glance
User-friendly, summarised dashboard screens and no hard-to-understand accounting jargon
Easily identify trends, opportunities and weaknesses through reporting and analytics
No software updates required; you'll always be using the latest version
Easy collaboration between business owner, bookkeeper, accountant and any other accounts staff.
Low start-up costs and no term commitment.
Of course, not all accounting solutions are created equal, so it's about finding the right systems, tools and integrations that are going to work for you; here are some things to consider when picking the right accounting platform.
What to consider when moving to cloud accounting:
1. Desktop or cloud?
First of all, consider your accessibility preferences. Desktop software sits on your computer whereas cloud software can be accessed from anywhere, of course if you don't have an internet connection then you also won't have access to your software. Cloud software generally has an on-going monthly fee whereas desktop software will have a set purchase price. Don't forget though, that you will need to purchase updates for desktop software regularly. Sending backups to your accountant can be a pain, but with cloud based accounting you can simply grant your bookkeeper and/or accountant access so they can log in and do their thing.
2. Is it scalable for my business?
Cloud accounting software such as Xero, Quickbooks and MYOB have various packages to suit sole traders or freelancers through to large businesses, therefore your accounting system can grow as your business does.
3. Integration with other software and applications.
Bottom line, functionality for your business is key, so this is a biggie. The beauty of cloud computing is that you can tailor-make a streamlined system to suit the functions and processes of your company through the integration of other software. Be sure to check that you are going to be able to integrate your accounting software with other third-party systems, or other software you may come to require, such as inventory management, CRM systems, task management etc. You don't want to have to take information from one system and enter it into another. Make sure the systems you're going to use can talk to one another.
4. Ease of use.
Design is a critical part of any solution and although accounting software isn't exactly exciting the design doesn't have to be dull. A well designed system should be enjoyable and above all easy to use.
5. Customer support.
If you don't have an IT team behind you, you want to know that you can contact a technical support, or at least support articles, when you need.
So where do I get started?
Most providers offer a free trial, so it's a good idea to try before you buy to make sure it's going to be the best solution for your business.
Here's our short list of cloud based accounting systems worth trialing:
http://xero.com
http://freshbooks.com
http://saasu.com
http://quickbooks.intuit.com
http://myob.com
Monica Shepherd is one of the core TradeGecko contributors who specializes in business to business related advice. Monica also runs Mark My Words Ltd, a New Zealand based company that helps developing businesses with their content strategy, SEO and marketing voice.