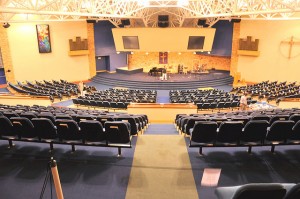 by Lorena Benchis
When you have a new business and you decide to host your first conference, one of the motivations is to leave guests with a great impression after the event. As well as the speakers and the content of the conference, these impressions can be set in stone by the smallest of details such as place cards as well as where you choose to hold the event.
In order to lodge your conference in the mind of every delegate, it's a good idea to have a theme that you hook the whole event around. Some venues are particularly good for this, as you can use the location itself to inspire the theme. For example, if you choose a conference venue like a theme park, you could even arrange tickets to the park for all delegates to enjoy after the business of the day.
Cinema venue hire is great if you have a lot of audio visual presentations to make, and you want your audience to be really comfortable while they're listening. You could finish the event off with a private screening of the latest blockbuster movie, making use of the special venue but also leaving the delegates with a feel-good memory to take away with them. Conference venues at Cineworld all offer the possibility of private film screenings and will supply catering to suit the mood of your event in the foyer.
It helps if you can find the vaguest of links between your conference subject matter and the theme and choice of venue. But as long as it's not too 'out there' most people should appreciate the efforts you've made to to make the whole day memorable.
If you're not sure what kind of theme to hook your event on, talk to venue finders about the most suitable conference venues. They will have plenty of ideas for how to make your event stand out from the crowd.
Lorena Benchis has been working from home as a marketing consultant for the past ten years. It's not always an ideal working environment, but she could never go back to being an employee after a decade of self-employed freedom.