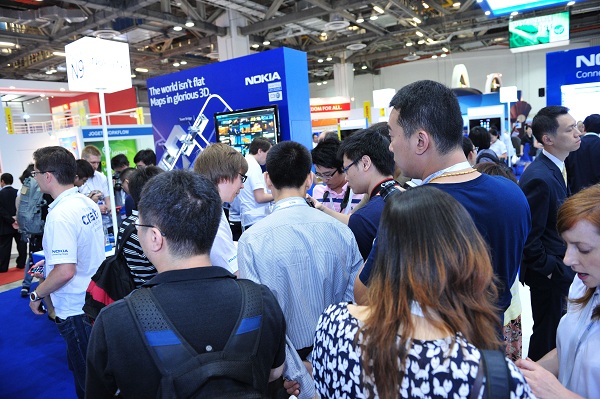 One of Asia's largest shows communications and information technology conferences – CommunicAsia – is just round the corner. Already in its 23rd edition, CommunicAsia 2012 will feature key and emerging technologies from FTTx, LTE, mobile broadband, mobile commerce and innovations, next generation services, satellite communications, smartphones and other devices.
For the technology startup or small business, aside from the exhibition there are a few interesting side events that may interest you:
Discovery Lounge
The Discovery Lounge at Level 5 of the Marina Bay Sands Exhibition Centre is a new showcase and networking space at CommunicAsia this year for small- and medium enterprises (SMEs), startups, educational institutions and research centers to present their innovations and interact with interested industry professionals to network and explore collaborations.
Selected organizations will have the opportunity to pitch their creative products or ideas to a targeted audience. Pitching sessions will be from 2 pm to 3:30 pm daily. As a part of the Discovery Lounge, there will be an Innovation Showcase for selected participating exhibitors to showcase their latest products and technologies.
Mobile Monday
For those in the mobile technology space, Mobile Monday will be hosting the Mobile Monday Developer Lounge at CommunicAsia, also located at Level 5 of the Marina Bay Sands Exhibition Centre. Visitors can hear presentations from Mobile Monday leaders about the unique opportunities in various markets around Asia.
Mobile Monday will be launching the organization's first ever Mobile Southeast Asia Report highlighting unique strengths of Southeast Asia in the mobile arena, innovative mobile start-ups in the region, dynamics of innovation ecosystems and networks in the region and many others.
Creative Content Production Conference at BroadcastAsia 2012
If you're into content production, the Creative Content Production Conference at BroadcastAsia 2012 (which runs in parallel to CommunicAsia) is a platform for digital animators, CG artists, directors, scriptwriters and everyone else in the creative industry to discuss and debate the trends, opportunities and challenges driving the industry today. Held over two days at Suntec Singapore, topics of discussion range from content formats and mediums, to content distribution for multi-screen environments.
Speakers at the Creative Content Production Conference include:
· Stuart McAra, Executive Producer, LucasFilm Animation, who has worked on Hollywood projects like Harry Potter and the Chamber of Secrets, Lara Croft: Tomb Raider and 10,000 BC.
· Mike Lake, CEO of Pinewood Iskandar Malaysia Studios, who has over 40 years of experience within the International Film and TV industry.
· Jeffrey Chan, CEO of HK Film Workshop, who championed the remake deal of the Hong Kong contemporary classic, Infernal Affairs.