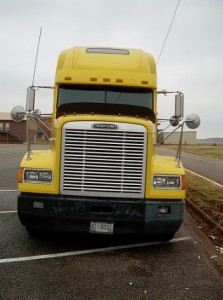 by Doug Matheson, thetruckersreport.com
You might be surprised to find out that in spite of the recent recession, wages and working conditions for truck-drivers are the best they ever have been.
Across the country, major trucking companies have a lot more jobs than they have qualified long-distance truckers.  Experienced company drivers pull-down the same salaries as college professors, and independents with their own trucks often bank six-digit incomes. Not everyone can push an 18-wheeler across America's big slabs; long-distance driving is demanding, lonely work. It does, however, have undeniable appeal, and you will never have greater opportunities in the trucking industry than you have right now.
If you are considering a job in the trucking industry and are considering purchasing your own truck, here are some things you should know:
Drivers are in demand.
During the Great Recession, some of the nation's major shipping companies downsized in response to high fuel prices and weak demand. Many veteran drivers found jobs in other industries and will not return to trucking. Now, all the major trucking companies face desperate shortages of qualified drivers, and they are willing to pay top dollar for drivers with Class A licenses; they also are willing to pay promising rookies for completion of their Class A certifications. The big companies are especially eager to recruit veterans of the Iraq and Afghanistan conflicts who have returned home to extremely tough competition for jobs. The nation's best truck driving schools are working with veterans who can use their GI benefits to pay for advanced driver's training.
Women break into the boys' club.
Back in the day, a few very brave women powered "playmate pink" big rigs right over the trucking industry's long-standing gender line. They quickly emerged as some of the best drivers in highway history, and the nation's biggest transportation companies actually prefer hiring women because they have proven their endurance, reliability and safety. Today, women make up approximately 20 percent of the nation's heavy haulers, and their numbers are still increasing. Women like the flexibility and independence truck driving affords, and trucking pays almost 40 percent higher wages than typical 'female-oriented' careers.  If you're a woman interested in getting into this industry, now is a great time.
Drive your family business.
For young families, independent trucking provides a great way to own and operate a family business. Because "team drivers" can keep their rigs loaded-up and running down the four-lane nearly 24/7, many husbands and wives have invested in their big-rigs and set-up housekeeping in their nicely appointed Kenworth cabs. Buying your own semi-truck has several material benefits:  once you're dong paying on the truck, you own your livelihood and will continue to earn money from the investment; often, down payments are not required to buy a truck; if you own a truck, you can deduct costs from your taxes if you own your own trucking business.
The road is clear ahead.
Eighty percent of the nation's manufactured and agricultural goods travel by truck, and experts anticipate no change in the near future. Moreover, 20 percent of America's most experienced long-distance drivers will retire in the next few years. With few new drivers joining-up, older drivers putting their careers permanently in park, and a recovering economy urgently in need of people to get products to market, new truckers can look forward to signing bonuses, paid training, and higher-than-ever starting wages. Truckers who lease or buy their own rigs can look forward to very attractive financing and plenty of work. "Carpe diem" means put the pedal to the metal. Start your truck driving career today.
Of course, if you are better with a wrench than behind the wheel, the industry desperately needs you too. Somebody has to keep those big Detroit diesels running. Major fleet operators are paying top dollar for exceptionally skilled mechanics. More importantly, though, if ever you have dreamt about finding a little highway homestead and opening your own independent garage, you enjoy great opportunities today that may never come around again.
Doug Matheson is an on-the-road freelance blogger for thetruckersreport.com, a one-stop shop for information for Truckers. He is also a regular poster on their Trucking forums.