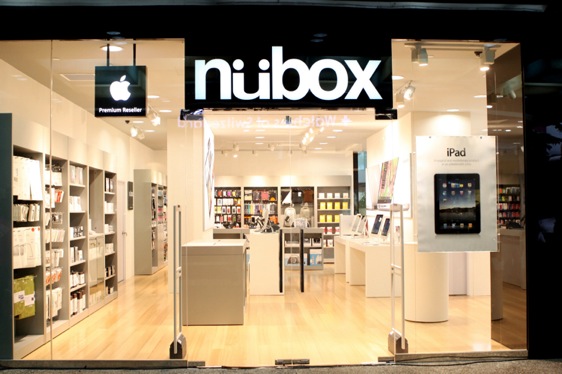 The retail business in Singapore is an extremely cutthroat one – between demanding consumers and intense competition, many retailers have to deal with rocketing sky-high rents and sometimes unreasonable landlords.
During the recent opening of the new Nübox concept store at JCube – one of Singapore's newest malls – we managed to speak to Evelyn Chua, the chief marketing officer of IT retail chain Newstead Technologies, which owns and runs the Apple-focused Nübox stores across Singapore. Including Nübox stores, Newstead Technologies to date operates around 50 IT-related retail stores across Singapore – including its Digital Style concept stores – so we asked her how they pick their retail locations and for advice on running a retail business.
Picking Strategic Locations
This may sound obvious to most, but it is crucial that the retail location you pick has sufficient foot traffic – the reason why Newstead Technologies decided on JCube. "JCube is strategically located near to one of the busiest MRT stations in Singapore – Jurong East – and this ensures good footfall for the mall," explains Evelyn. "We also see the potential in this area with the residential estates, nearby educational institutions and recent injection of commercial properties. It would be a hub for a large spectrum of consumers, including both commercial and residential dwellers."
For Newstead Technologies, one of their key strategies was to place their stores "close to the home of the consumers", and hence they view suburban malls as viable retail locations despite the generally more upmarket, higher ticket prices for premium Apple products. "We want customers to be able to experience our products and services close to home," she adds.
Get Relevant Data
Many aspiring or new retailers often jump the gun by shortlisting potential retail locations without fully understanding the demographics of a retail mall or the area which it serves. And even if the demographics suitable, it is important to tailor your product range. "We get the customer demographics from the malls and plan our product offerings accordingly," says Evelyn. "For example, some of our stores have more accessories for the families whereas others may offer more office solutions."
Dealing With Landlords
Different malls position themselves differently, and approaching a landlord with a good and differentiated business value proposition that benefits the mall is extremely useful to help in any rental negotiation. "Landlords will want to provide a good mix of merchandise and have stores that offer distinctive value to shoppers. As retailers, these are what we need to bring to the table," Evelyn advises.
Understanding Consumer Trends
Retailers need to keep their finger on the pulse of consumer trends, otherwise they may miss out on opportunities, or worse, suffer reversals when trends change. Evelyn shares that Newstead Technologies saw early that mobile gadgets such as notebooks and tablets were gaining in popularity over the past few years, and spotted the growing consumer demand for accessories to customize their mobile devices, which led to their idea for Digital Style concept stores. "Consumers young and old are adopting a digital lifestyle," Evelyn says. "(Thankfully for us) the market size for consumer IT products in Singapore have grown and will continue to grow as more consumers become digital savvy."
"Our growing number of stores will cater to this increase demand."