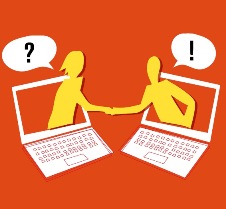 If you're the owner of a small or medium enterprise and the idea of leveraging on web technology for your business scares you, you're not alone. Many business owners find it a challenge to identify the right solutions for their needs; in many cases, the solutions catered for large enterprises are simply too complicated – and far too expensive – to use in a smaller operation.
That's where SingTel myBusiness comes in. By sourcing and curating the most affordable yet still feature-rich online solutions targeted at small- to medium-sized businesses, SingTel myBusiness puts together a suite of web technology offerings – from customer service management to online document storage and sharing – to meet a variety of business needs. "There are many enterprise-level solutions out there which big businesses use, but more often than not SMEs do not need such complex solutions," explains Lennel Tan, marketing manager for SingTel Innovation Exchange (SiX).
Over the past few weeks we followed the experience of three local organizations – FarEastFlora.com and Rochor Beancurd House, as well as non-profit organization Cat Welfare Society – who were trialling ReputationWatch, an affordable online social media monitoring solution available on SingTel myBusiness. This web tool – a collaboration between social media monitoring agency JamiQ and SiX to provide SMEs with a tool to help them better manage their online reputation – helped them track what their customers were saying about them online these past weeks.
Now that we've reached the end of the trial, we spoke to these organizations to find if the service has helped meet their business objectives.
Fuss-Free Social Media Monitoring
Sarah Yong, senior manager of FarEastFlora.com shares that using an online monitoring service like ReputationWatch definitely provided her with insights into what netizens say when they talk about the FarEastFlora.com brand. "There is a need now to constantly monitor the social landscape, especially when these social media platforms are such popular channels of self-expression for a lot of our potential customers now. By understanding our customer's needs, we are able to be flexible, aware and cope with any changes needed."
"It has also given us an opportunity to work on areas highlighted by our customers almost immediately," she says.
"The truth is that social media tools like ReputationWatch are useful because these days almost everyone is using social media to communicate," concurs Rochor Beancurd House's director Jason Koh. "ReputationWatch allows us to keep a close contact with our customers' feedback on how they feel about our products, be it the message is directed to us or to their peers."
As for Cat Welfare Society's vice president Veron Lau, using ReputationWatch was an eye-opener in terms of finding out how people online relate to cats and what makes them comment about these felines on social media. She believes that the service has advantages for both businesses and non-profit organizations."While businesses would be monitoring more closely on their reputation, non-profit organizations can use the service to look at how people relate to their causes and their beneficiaries," Veron Lau explains. "This can have positive impact for their campaign and outreach plans."
"We do see the benefits of continuing to monitor such conversations in the public domain and engage people if necessary," she adds.
Of the features offered by ReputationWatch, Rochor Beancurd House's director Jason Koh felt email notifications to alert him whenever his company or product is mentioned was most useful. "I'm updated even when I'm away from my desk," says Jason Koh. In addition, he likes the ability to be able to archive all data for record purposes – which allows him and his team to analyze potential trends. According to Jason, the flexibility of being able to change key search terms in real time helps when trends are changing and a new search term is essential.
For Sarah Yong, the fuss-free setup and use of ReputationWatch was an attractive draw. "After the initial setup with our emails, everything else is auto-pilot as the emails will be pushed to us daily based on the keywords we have put in," she explains. "Now there is less effort needed for monitoring."
She recommends ReputationWatch to small and medium sized businesses who strive to be responsive to their customers' needs. "It is pretty useful when the company is new and need constant customer's feedback. It also provides good marketing insight for SMEs and, because of its convenience, it really helps to save time and effort on the part of the busy owners or marketing personnel," Sarah adds.
Online Solutions and the SME
"We would like to extend our most heartfelt thanks to Jason, Veron and Sarah who have taken time out to participate in this case study. We hope that their experience with ReputationWatch has given an insight to other SMEs around social media monitoring," says SingTel Innovation Exchange's Lennel Tan. "We'd also like to invite other SMEs to check out myBusiness techblog, a Singaporean, business and technology-focused online news source that aims to serve the local SME community by providing them a trusted source of information which is collectively created by us, our solution partners, and other SMEs in the community."
"We will continue to use this platform to share more case studies of other online solutions for SMEs," he adds.
That concludes our series of blog posts on the ReputationWatch trial. If you are interested to try out the solution yourself, sign up today here. ReputationWatch is available exclusively on SingTel myBusiness portal.