According to Paypal, by 2015 Singapore's e-commerce market is expected to hit US$4.4 billion in size. However, only 15-percent of local small to medium enterprises have a website with full e-commerce functionality. The founders of local startup company PayWhere believes there's an opportunity in this gap, and that's why they're introducing TackThis. TackThis (www.tackthis.com) allows businesses to set up a full e-commerce solution on any website or social network, and even lets them manage that online retail shop with a centralized inventory and customer management system.
TackThis can be easily incorporated on websites, social media platforms such as Facebook, and even on blogs. The platform consists of a product catalog (for customers to easily view products), a payment gateway (for customers to conveniently pay for their products through payment options such as credit card, Paypal, internet banking, ATM transfer and MOL payment) as well as an inventory management system (for retail merchants to streamline stock inventories). A new social sharing feature called 'Share Promotion' even allows – even giving incentives to – users to share their purchases on Facebook.
Social Sharing, Social Sharing
"Social commerce is rapidly becoming the preferred way to do business online," says Dickson Gregory, CEO and co-founder PayWhere. "We set up TackThis to revolutionize online shopping, making it fun, social and seamless. We hope that this innovative tool will help small blog-shop businesses in Singapore to boost their efficiency and increase revenues." Gregory and fellow co-founders Vincent Lau and Damian Chow set up PayWhere when he first realized it was difficult to collect any form of payment online.
At least one small business that uses TackThis agrees. "When I heard about TackThis' Share Promotion feature, I immediately incorporated it into Magic Global's Facebook Shop," said Bigy Tan who owns Magic Global, a small business that sells health products. "Getting word-of-mouth referrals is one of the best ways for us to market our products, especially since an existing customer's Facebook friends are likely to also fall within our target audience."
"I have already seen a 15-percent increase in sales, after installing TackThis on my website and Facebook, and I am hoping to see a further increase in revenue with the new Share Promotion feature," he adds.
TackThis has been in open beta since September 2011, and to date, have signed up nearly 1,000 retail merchants. TackThis is incubated by NUS Enterprise.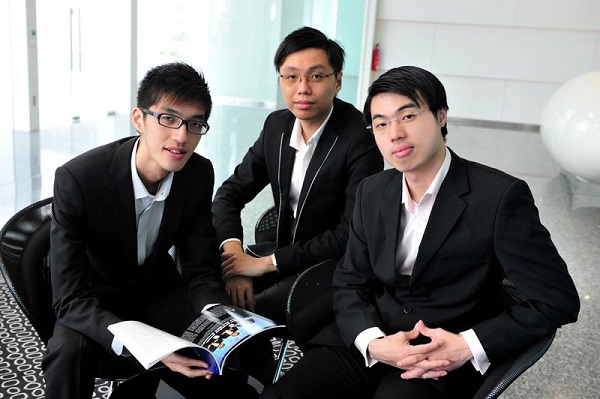 PayWhere founders (from left) Damian Chow, Vincent Lau and Dickson Gregory