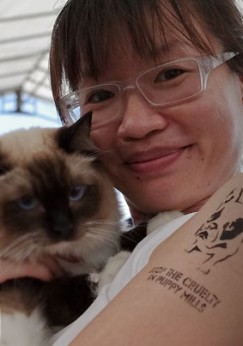 Monitoring social media can be tricky – but it need not be.
Earlier we highlighted three organizations who were selected to trial ReputationWatch, an affordable online social media monitoring solution available on SingTel myBusiness. Local businesses FarEastFlora.com and Rochor Beancurd House, as well as non-profit organization Cat Welfare Society, wanted to understand what the public could be saying about them in the online space, and were keen to see how ReputationWatch works.
One of the biggest obstacles when trying to track conversations online is the sheer fact that there is simply far too much data out there – and trying to find what and where people are talking about your brand can be akin to searching for a needle in a haystack. Cast your net out too wide, and you are likely to get far too much "noise"; don't cast it far enough, and you may miss out on some important mentions. For ReputationWatch, users identify and input a number of relevant search terms, which will help the system identify the right information and present it on their online dashboards. The service also offers users the ability to narrow down their search by country and language, to make monitoring more specific.
Identifying Keywords For Search
Benjamin Koe, co-founder of JamiQ – the social media monitoring agency that developed ReputationWatch – offers some advice on choosing search terms. "The easiest way to begin is to use your brand's name as your search term," Benjamin says. "But even with your brand, you should test to see if your brand means something else as well," Benjamin adds. If your keyword is an acronym, for example, make sure it doesn't stand for another thing or means something else.
"Lastly, you need to make sure how people talk about your brand. While your brand could be Microsoft, people may actually say MS instead. By searching only for Microsoft, you could miss out on mentions of MS." In the case of Rochor Beancurd House, Benjamin recommends using "rochor beancurd", a term more commonly used by customers, instead of the more complete "rochor beancurd house".
Benjamin warns that some people can be overcautious and try to use too many keywords. "Often people assume that people will talk about their brand with certain words, when in reality they don't. By putting too many words in, you will only pick up on mentions that contain those words, and miss out on many that mention your brand with other words."
Cat Welfare Society or Com World Series?
Cat Welfare Society, for example, started off by using the search terms "cats", "CWS" (the initials for Cat Welfare Society), and "cat nuisance". However, the keyword "CWS" filtered a lot of telecoms-related news ("CWS" also stands for Come World Series), which were totally irrelevant to the non-profit.  In addition, they also found out that no one really uses the term "cat nuisance" in their conversations. They finally tweaked their search terms to "cats", "stray cats", and "animal welfare". "This allows us to better track as much news and conversations about cats and animal welfare in Singapore," explains Cat Welfare Society's vice president Veron Lau.
So far, she says that it has been interesting discovering the online conversations that people have about their pet cats or community strays. The society does act on some of these conversations. Once they discovered a tweet of someone who was shocked a stray cat had entered their home and tried to engage the person to let them know how to prevent that from happening again in the future. "We hope that people will find our engaging them friendly and useful to help them with the issues they face," she explains.
One lesson they've learned? "Fine-tuning our tone of engagement so people do not see it as overly intrusive, while at the same time fulfilling our objective of spreading information about responsible pet ownership and humane stray management," Veron Lau shares.
Maintaining Customer Goodwill
For Rochor Beancurd House, aside from "rochor beancurd" director Jason Koh also tracks "soya beancurd" and "soy beancurd", because the company is usually mentioned by their brand name and the product they sell. He's mainly looking out for mentions related to customer service and quality control.
"If there are any complaints mentioned online and not directed to us, we will try to contact the customer and do damage recovery on our side," explains Jason Koh. "And at the same time (we can) explain what may have caused the unpleasant incident."  This, he says, actually helps to retain his customers' goodwill. "A negative comment online may not be a bad thing after all – it is really an opportunity for our company to show how we value our customers and our acts of goodwill can be a positive marketing tool," he says.
Tracking the terms "soy beancurd" or "soya beancurd" is also a great way for Rochor Beancurd House to track mentions on its competitors and how they are doing. "It is good to know your competitor's business strategy in order to do better than them," he adds.
Tracking The Competition
In fact, the other trialist FarEastFlora.com even uses a competitor's name as an active search term. "We are trying to observe our closest competition," laughs Sarah Yong, senior manager of FarEastFlora.com. The company also tracks "Far East Flora" and "FarEastFlora.com".
So far, the flower and gifts company is seeing a lot of location mentions, especially fans who share online about their visits to its retail garden centres. "It's good to hear from our customers the positive experience that they have with us during their visit when they mentioned how nice and refreshing being in the garden after a stressful day is!"
Stay with us as we follow Sarah, Veron and Jason as they use ReputationWatch over the next few weeks.
Try ReputationWatch for FREE and join our participants in this trial. Sign up today here. ReputationWatch is available exclusively on SingTel myBusiness portal.