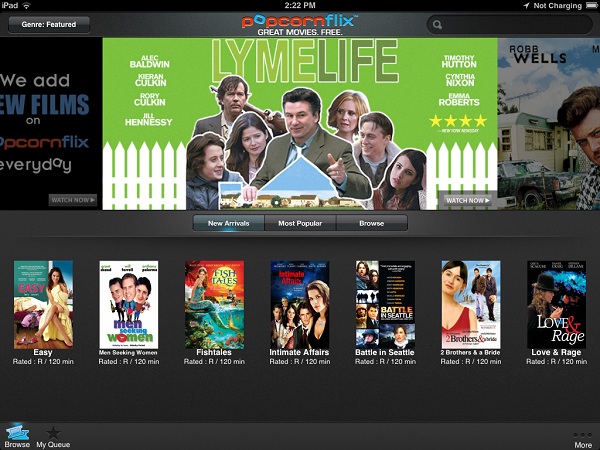 Forget all the controversy over how technology is today allegedly infringing on intellectual property rights of the movie industry. There are examples of how both technology and film can co-exist together without tearing each other apart, and one of them is Popcornflix, the online digital movie platform (also available on Roku) that allows movie lovers to watch movies for free anytime.
Popcornflix recently launched their iPhone and iPad movie streaming apps, allowing you to stream full-length feature films directly onto your mobile devices. The Popcornflix iPhone and iPad apps launched with over 300 free films available, but the company is adding new ones every day and hopes to have at least 1,000 films available by the end of 2012. An intuitive interface allows easy browsing and selection of theatrically released and independent titles in a wide range of genres.
"We developed these iPhone and iPad apps to be state-of-the-art, easy and fun to use," says Gary Delfiner, senior vice president of Digital Distribution for Screen Media Ventures, LLC, the parent company of Popcornflix. "Viewers are never more than two 'taps' away from hundreds of great films they can view for free!"
Popcornflix is ad-supported, with each film including pre-roll, spot ads and banner ads available to advertisers. The online version of Popcornflix is currently available in ten countries, and the company is looking to extend its service internationally in the coming months.
Now all we need is better broadband.