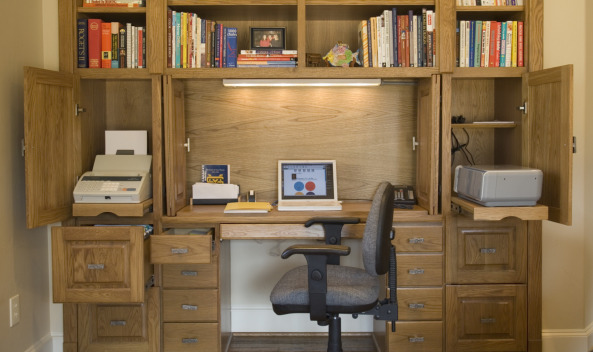 (Credit: www.workingnaked.com)
By Pooja N. Gugnani, professional organizer and founder of Organizing With You, Inc.
Working from home can be a refreshing alternative to enduring long hours in traffic and a rigid schedule – if and only if your home office has a system that complements your needs well!
As a professional organizer, I'm seeing an increasing number of clients working from home so they can spend more time with their family.  Consequently, this has created a growing need for more efficient home office organizing systems.
At Organizing With You, our goal is to get clients to maximize their space and minimize their stress.  We try to ensure that those clients with  a home office or a home based business are able to continue matching the productivity and timeliness achieved in the traditional office setting.
Here I'd like to share some quick tips on getting your home office organized so you don't regret your decision to stay home and work:
Keep it Simple
You don't need an elaborate system; focus on functionality and create a system that accommodates your working style.  After all, the goal is to make your home office a productive and enjoyable environment.
Take Control of Your Surface
Sort through all your papers and begin organizing surfaces first.  Visit the IRS website to determine which papers you need to keep & for how long.  Always shred important documents!
Create Space
If your home office is small and desk isn't big enough, use wall-mount storage for papers you need handy.  Little changes like having a laptop instead of a desktop or a vertical tissue box holder instead of a horizontal one can make a difference.
Don't Be Afraid to Invest
First, make sure you have a comfortable office chair and a desk that supports drawers.  If needed, buy an over/under keyboard drawer, wireless mouse and if applicable, a monitor arm to make more room on your desk.  Invest in a shredder!
Don't Mix Business With Family
Separate all personal and business papers into two different piles. If you're a more visual system, don't hesitate to implement a color-coded filing system.
Add Appeal
Make your home office look simple and pretty by adding a few plants, pictures and anything else to give it a personal touch!
Remember, it's all about achieving a balance between your office and your home!
Professional organizer, efficiency expert and founder of Organizing With You, Inc., Pooja Gugnani helps you simplify your life by creating organizing systems to help you maximize your space, minimize your stress and increase your productivity.