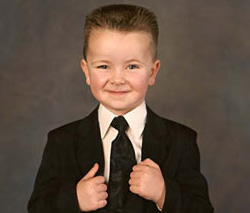 According to a recent survey conducted by financial management solutions provider Intuit, over 7o-percent of men and women in Singapore – most of whom in their 30s – have considered being entrepreneurs at some point in their lives. Which must, of course, come as a shock to their extremely conservative parents who expect their children to pursue more traditional, professional and safer career paths.
This surprising (or should it be unsurprising?) result came from an online survey of 1,000 respondents aimed at the uncovering the level of empowerment Singaporeans feel in different areas of their lives – from their entrepreneurial intentions and work environment to IT attitudes and practices, including cloud computing.
"It is great to see that a large majority of people here possess an entrepreneurial spirit. It bodes well for the future of Singapore, where SMEs (small to medium enterprises) employ nearly six in ten workers and contribute more than 50% of the GDP," says Arjun Chopra, senior marketing leader at Intuit Singapore. "Small businesses have a significant effect on our economy and entrepreneurs maintain that creative spark in industries, and ensuring economic resilience. It is important to support this growing appetite for (entrepreneurship) by providing the right resources, e.g. financial management know-how, to set budding business owners on the path to success."
Two Key Drivers – Technology And Work Autonomy

According to the survey, the two biggest drivers that are leading the entrepreneurship trend is enabling technologies and the desire for more work autonomy.
The majority of participants see social media, especially Facebook, as the most useful tool in helping expand business networks. 50-percent of Singaporeans surveyed are also aware of technologies like cloud computing, but very few are able to name any useful solutions and applications. Interestingly, there is more awareness among the older working age group (40-59 year olds) about cloud computing, indicating that Gen X is keeping ahead of the technology curve.
In the area of business communications, most people say they are constantly connected to their emails, with 55-percent checking their work correspondence at least once every 1-2 hours outside the office, indicating a constant need for effective mobile solutions.
In terms of management at work, most felt that flexible and mobile work practices should be encouraged in today's society. However, only four in 10 Singaporean companies see strategic value in equipping employees with remote working arrangements that allow staff to work remotely to increase personal work productivity or meet specific deadlines. Unfortunately, the majority of companies offer this arrangement only as a convenient option, e.g. to allow employees to attend to personal/family illness.
Some 47%-percent of respondents who do not have flexible working provisions in their organizations recognize this as an important option – especially those in their 30s – mainly for the flexibility to care for and spend time with their families.
It's no wonder people are considering an alternative where they have more control over their time.