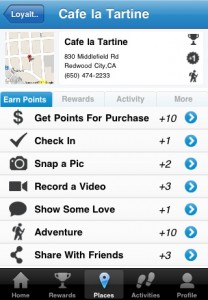 We previously highlighted around!, a mobile application built around the idea of location-based social buying and allows users to snap QR codes to unlock special privileges and "loyalty points" at partipating retailers and other outlets in Southeast Asia and Australia. It so happens that there's a similar application for the U.S. market called Chatterfly.
San Mateo, California-based Chatterfly (www.chatterfly.com) is a mobile loyalty rewards platform that connects local businesses to consumers. Chatterfly app essentially eliminates the need for traditional paper loyalty cards, simplifying the experience with the use of a smartphone. Like around!, Chatterfly uses QR codes for purchase verification. It also takes it a step further by using QR codes to run interesting marketing activities such as scavenger hunts. For example, a local spa could offer a free day spa package and dinner for two to the first visitor who finds a special object placed in the store, snaps a photo of it, and posts it to Facebook.
Chatterfly also enables a rewards program for local businesses that not only allows shoppers to earn points for rewards and discounts when purchasing stuff, it also rewards you for sharing your experiences socially on Facebook, Twitter, Foursquare, and Google+ with your friends.
"We go above and beyond the digital loyalty card play.  We're about supporting the local business community and rewarding shoppers for their support," says Charles M. Yim, founder and CEO of Chatterfly.  "For consumers, the benefit is that you can access a majority of the loyalty reward programs in your neighborhood with the convenience of a smartphone enhancing the shopping experience in a fun and exciting way.   Unlike many deal-of-the-day programs like Groupon or LivingSocial that focus on short term gratification, Chatterfly is focused on the long-term, rewarding repeat customers for loyalty and encouraging friends and family to join in."
"Besides making it fun for patrons to earn points and cool rewards, business owners will love the fact that Chatterfly can track back the exact number of shoppers that were driven to the store, so they know how it directly impacts their bottom line. We have set out to redefine the perception of customer loyalty by quantifying the impact of socializing shopping and entertainment experiences within local communities," adds Yim.
The Chatterfly app is available both for the Apple iPhone and Android, with plans for Blackberry and Palm versions in the near future.