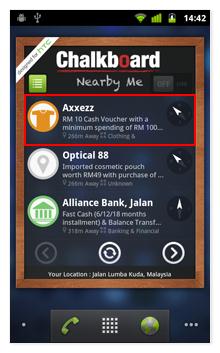 Location-based mobile advertising network Chalkboard has announced an exclusive strategic partnership with device maker HTC in Malaysia, and launched a Chalkboard widget for HTC users in that country. The free, easy-to-use widget provides real-time updates and promotions from Chalkboard's over 4,000 business customers to users of HTC's Android devices.
"HTC is proud to provide a richer experience for our users by incorporating Chalkboard – a service that works with thousands of local businesses – on our innovative handhelds," explains SK Wong, Country Manager at HTC, Malaysia. "Consumers are relying more and more on their mobile devices to give them ready access to the local information they want. HTC is proud to bring this service to all our Malaysian users."
Singapore-based Chalkboard's mobile advertising service targets relevant content and promotions to consumers when they are near business locations within a 5-kilometer radius. With the widget, users can find neighbourhood restaurants, stores, and other local businesses, and the embedded map will also provide directions to locations in the shortest route possible.
"HTC is a global leader in mobile innovation and design," says Saumil Nanavati, CEO and co-founder of Chalkboard. "In addition to adding value to the HTC user experience, this partnership also helps our business customers, especially smaller businesses, who often cannot afford traditional marketing and who benefit more from targeting local consumers versus using mass media."
You can find more information on the Chalkboard widget here.