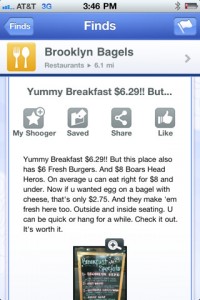 It's got nothing to do with girls with a penchant for shoes. Then again, just maybe. Shooger is a free, community-driven web and mobile deal-hunting application that gives users the ability to find and share deals instantly with other Shooger users.
And before you go again with "not another daily deal site", Miami, Florida-based Shooger does not operate on the standard tipping point models or advertiser-backed promotions. Instead Shooger is designed to be experienced on the mobile, and features hyper local deals, limited-time-only discounts, special promotions as well as product recommendations and tips such as which salesperson to talk to at the store. The data comes from the community itself – the idea is that a highly-engaged, active user bases scouts for deals to share with each other.
"There's no doubt that we are in the middle of a consumer revolution — the way people shop and make purchase decisions has changed dramatically with the ability to tap into the community for resources and referrals," says Alex Stancioff, CEO of Shooger.
"With Shooger on your smartphone, you've got instant access to exclusive information, no matter where you are," adds Milen Mishkovsky, Shooger's CIO.
"The best deals have always been the ones you hear about from your friends. Shooger is like having a whole bunch of deal-finding friends sharing their tips with you," says Donick Cary, executive producer of Shooger and Emmy-winning writer from "The Late Show with David Letterman" and "The Simpsons". "You can follow real people and their real deals – It's a great big mobile reality show that saves you money."
A Sweet Deal
Cary shares that the idea for Shooger came some two years ago. Co-founders Cary, Mishkovsky and Alex Stancioff – they previously started an animation company in Bulgaria – were wrapping up Lil' Bush for Comedy Central when they realized they had a lot of great technical resources at their disposal. "We had a brainstorming session with our friend Anand Narasimhan and were all talking about the future of cell phones and the possibilities of timely, geo-specific information." They started talking about how they all loved deals, and would always share their favorite restaurant finds. What if they combined the idea of sharing deals with others, and more, on their phones?
"So we started to put together a tool that would do that.  Shooger is it.  It's all about real people finding and sharing real deals." Shooger, Cary says, refers to sugar – and the concept of sweet deals. It stemmed from Sugarshack Animation, the company they started to make Lil' Bush.
He says his experience in entertainment is the way he looks at TV shows. "The idea of starting a new company to me was like coming up with a new TV show – what would be the most fun to 'watch', what would people really tune in for, what would get good "ratings", what is something that we are passionate about, etc," he says.
"Good stories always find an audience – So I've been looking for the "stories" in this space," Cary reveals.
So if you're a girl with a penchant for shoes, you *can* use Shooger to find deals on shoes to share with other users.
Shooger is currently available on the iPhone, with Android and BlackBerry versions coming.