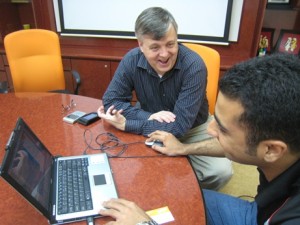 Singapore's Media Development Authority (MDA), SingTel Innov8 and NUS Enterprise have jointly announced a new incubation program, known as Blk71, which is a one-stop access to resources for startups in Singapore to develop and market their solutions to customers.
The move is aimed at boosting the interactive digital media (IDM) space in Singapore, and will see MDA and SingTel Innov8 make joint Calls-for-Proposals (CFPs) which will provide successful start-ups with up to S$50,000 of initial seed funding and opportunities for follow-on funding of S$200,000 or more. To support these initiatives, MDA and SingTel Innov8 will commit an initial sum of up to S$2 million each over three years.
MDA will also allocate office and incubation space at Mediapolis Phase 0 located at Block 71 Ayer Rajah Industrial Estate, where NUS Enterprise and SingTel Innov8 have signed on as anchor tenants and will work together to manage the facility to foster a vibrant environment for IDM-related start-ups, investors, technology incubators and industry partners. The space will house a host of support services that will facilitate the translation of ideas into start-ups and bring start-ups to the next stage. Common space will be provided, as well as business services such as legal and financial advisory resources, and intellectual property management.
"Blk71 will pull together the relevant companies and industry players in the IDM sector that are currently dispersed around Singapore,"  says CEO of NUS Enterprise Dr Lily Chan. "By bringing these together in one vibrant start-up environment, it will build up a critical mass for increased synergy, entrepreneurial dynamism and economies of scale."