Congratulations, you've a great idea and just incorporated a businesss to work on it! So what's next? For many new entrepreneurs one of the key challenges is branding and corporate identity – such as creating a logo suitable for, and that clearly represents, your business.
Here are six steps to consider for the perfect logo:
Set an identity.
If you're already thinking about picking a color for your logo, consider again! One key mistake that many new entrepreneurs is diving straight into logo design without clearly thinking about and articulating the needs of the business. Which industry are you in? What services are you providing? Who is your target customer? Your logo should mean something to your customer other than a sleek design.
Research!
Check out the logos of your key competitors to understand what works in your industry (and what not to replicate).  Be careful that some design elements may be trademarked by a competitor, so some due diligence may be in order.
Consider tone and manner.
Your logo should impart a sense of who are at first glance, so consider the tone and manner you want your logo to carry. Is your business serious, cheeky, fun, casual, sophisticated, or elegant? Also, what works for the baby apparel industry, for example, may not be appropriate for a business selling enterprise software.
Be unique.
Have an element in your logo design that is unique. For example, pick a color on the pantone color chart that is unique enough (yet won't give your printer a headache). Or incorporate a design element not commonly used in your industry (Starbucks uses a mermaid). A good logo designer will be able to advise you on this.
Think about where the logo is going to go.
Another common mistake is not thinking about where your logo is going to be used – it's not just going on your website or business card! If you're running a retail business, for example, will your logo look good on the shopfront? Can it sit well on the side of a delivery van, or on a wallscape location?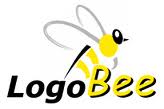 Choose the right service provider.
One way of finding logo designs at a good price is using crowdsourcing services. But if you want to have more control over the design and get access to quality designers, consider using dedicated professional logo design services such as Logobee.com. But whichever agency you choose, be sure to check out their sample work or see what their customers say.
This post was sponsored by Logobee.com.