Ever encountered the frustration of trying to look for a service provider, but unable to find a suitable one based on locality and the availability of the service provider? Skillendar (http://www.skillendar.com) may be able to help.
Launched in October this year, London-based Skillendar – short for 'Skills on Calendar" – is an interesting free calendar-based search and skills matching platform that allows individuals and businesses to list their services, as well as for users to search for required services (in their area) based on availability and customer ratings.
Skillendar was founded by Sundar Venkitachalam, who has a background as a technical architect and consultant for around 15 years. The idea for the online service came about due to his own personal frustrations of not being able to find suitable services at the right time. "There have been many instances where my wife and I spent ages trying to find service providers to do the job we wanted on the date and time that was convenient for us," Sundar recalls. "We were really frustrated that we had to make several phone calls before we could find a provider who was available to do the job at that particular time. It was quite surprising that there was not a single web service which gave us the details of the availability of these providers."
And so Skillendar was born.
One of the key user segments that Skillendar is currently targeting are students. "Skillendar can help students to publish their skills and reach their potential clients very easily. As Skillendar is an online platform for short-term and temporary jobs, it really suites students' busy schedules and limited availability." But of course, Sundar adds, the service can pretty much be used by any skill providers or seekers anywhere.
Passion And Commitment Leads To Success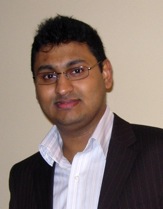 Skillendar is currently self-funded and owned by Sunsai Ltd, Sundar's technology consultancy services company. Sundar admits that due to the initial lack of funds and resources, he had to put a lot of time and effort personally to design and develop the service. "But I am now glad that all those sleepless nights and weekends were all worth at the end," he says. However, he says they currently are looking for an investment of a minimum of £500,ooo to fund further development, marketing and infrastructure.
"If you are passionate about an idea and you are committed to it, you should never hesitate to start a business to make that idea a reality," Sundar insists. "I used to wrongly believe that, if you are a technology person and haven't got much commercial orbusiness experience; you can never have a successful business.  But now I have realized that if you believe in yourself and work hard you can surely make your dreams come true."
Since setting up his company, Sundar said he conducted a lot of research on the key factors that contributed to helping entrepreneurs in achieving their goals. "The answer I gathered from my research is that, regardless of the industry you are in, absolute commitment and great passion for delivering something great to the world would always lead you to success."