Who says you can't make a good product while being employed full-time?  Shoutreel, an online site that allows you create your own forums and discussion groups, was founded in 2009 by Farooq Yousuf, Ammar Yousuf and Amir Sahib, all of whom work in web development yet developed Shoutreel in their free time.
They came up with Shoutreel because of the pain in using traditional online forums and message boards.  "We are all users of online forums, and after some time we realized that the solution old forums provide is not the best and can be greatly improved upon," says co-founder Farooq Yousuf. He points out, for example, that these traditional online forums are usually closed networks that require logging in to comment, which can be inconvenient.
The Future of Online Forums Is Reel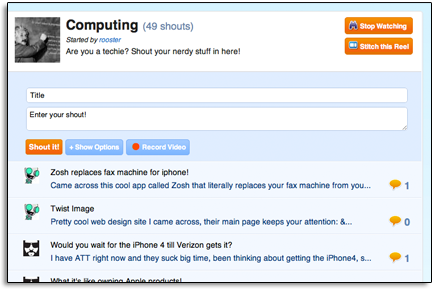 Using the concept of "reels" – lightweight spaces where users can quickly and easily share thoughts on anything – users on Shoutreel can set up their own public or private reels, ask questions, post comments, participate in discussions in other reels, all from one interface. Reels offer features such as instant video recording, photo capture, ability to connect reels, as well as the ability to embed on websites or blogs, and in the near future, support for mobile as well.
The key benefit of using Shoutreel, says Farooq, is basically its easy and simple user experience. "It takes a few seconds to start a reel. Using that reel is equally as easy."
Farooq says that Shoutreel does not aim to reinvent social networking, and neither does it compete with Ning, which allows users to create their own mini social networks. "Shoutreel provides users with a quick and easy way to participate in group communication for any reason on any topic for any length of time," he explains.
The founders believe that their target users are those who need to create an online group to facilitate communication. It's useful, for example, for those who want to set up discussion groups, such as teachers who want to enable and host backchannel discussions with students. The service is currently free for use, but Shoutreel will be introducing a freemium model sometime down the road.
The founders of Shoutreel so far have faced quite a few challenges, but like most startups, the key one is traction i.e. getting users and groups to sign up. "We've only started to market Shoutreel heavily recently as before we were building it. Hopefully this challenge shouldn't be long-lived." The completely bootstrapped startup currently have no investors or backers, and are looking to getting some investors soon.
Entrepreneurship – Meeting Own Goals, Not Someone Else's
"We enjoy entrepreneurship simply because we love being our own boss and working on something we love," Farooq says. "We enjoy it because it helps us achieve our own personal goals instead of working for someone else helping them in their goals."
The main lesson they've learnt so far, as with many other entrepreneurs, is to never give up. "You have to keep on trying and trying until you succeed."
"With this mentality, we hope to achieve success with Shoutreel."