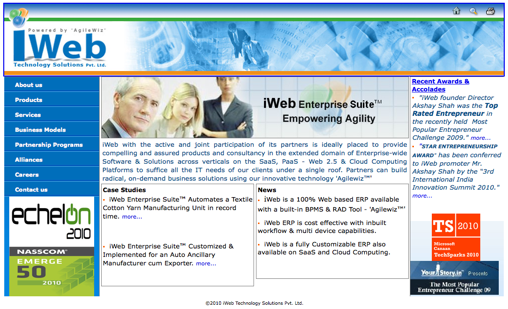 Mumbai, India-based iWeb Technology Solutions was founded by Ketan Trivedi and Akshay Shah in 2005 to service the under-served small-to-medium enterprise (SME) market with cost-effective, enterprise-level software products.
iWeb's core product is its iWeb Enterprise Suite, an IT framework which core business applications – such as enterprise resource planning (ERP), enterprise information (EIS) and knowledge management (KM) – sit on that works on both Platform-as-a-Service (PaaS) and Software-as-a-Service (SaaS) models. The iWeb Enterprise Suite is built on based on AgileWiz, iWeb's own trademarked, proprietary technology.
"We understood that the SME needs were very complex, and unless we have a RAD (Rapid Application Development) Codeles technology, it would be difficult to satisfy all the SME needs and scale up," says 28-year old Akshay, iWeb co-founder and the company's chief operating officer. "We decided to build our own Codeless Business Process Management Suite which we called AgileWiz – an 'agile wizard' to customize, configure and implement enterprise wide business solutions on the fly." They had checked other available products, but none seem to do what they wanted, and hence they proceeded to build their own.
The enterprise software space, even if targeted at the SME level, is an extremely challenging and competitive one. Industry giants such as SAP and Oracle have increasingly been encroaching into this segment. Also, the needs of SMEs have always been incredibly diverse, and hence, require much customization. However, to date the company has managed to penetrate various industry verticals, such as the financial services, training, telecommunications, and the non-governmental organizations (NGO) markets.
Accolades
iWeb regularly receives accolades from the industry for its work and its potential, such as having been named as one of the 50 emerging companies in India for 2010 by India's IT industry body NASSCOM. Akshay himself has also been recognized as a promising entrepreneur, having topped the Most Popular Entrepreneur Challenge 2009 held by Indian online entrepreneur community YourStory. He was also recently awarded a 'Star Entrepreneurship Award' at the 3rd International India Innovation Summit 2010.
The iWeb team was recently in Singapore at Echelon 2010 to promote its services and look for potential investors. The company is looking for funding on an urgent basis, Akshay reveals.
Entrepreneurship
"Entrepreneurship is a tough game, but if you love what you're doing you won't feel the pain," Akshay says. "Choose to become an entrepreneur only if you love what you're doing and not just for the name of it."
An important lesson he has learnt is to 'never say die'. "Many times you will feel thats it's all over and the night looks just too dark, but always I have learnt and experienced that there is a bright sunny day after every dark night, and every cloud indeed has a silver lining."
His mantra? "Tough times don't last, tough men do."