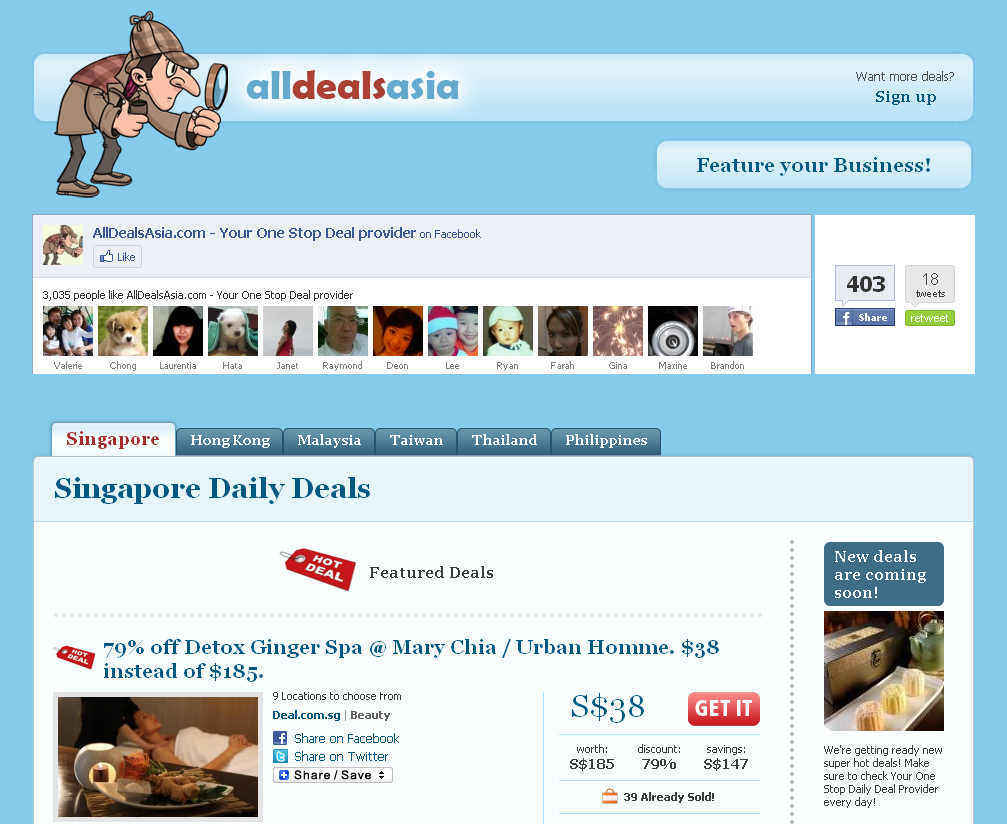 The biggest highlight and selling preposition of Groupon-like group buying sites, the daily deal, is also its greatest weakness – these sites can only list one deal at any one time. That's the pain point that new site All Deals Asia seeks to resolve, by finding and aggregating the daily deals from group buying sites onto one site.
All Deals Asia essentially scouts  all the best shopping, entertainment and lifestyle deals available in Southeast Asia and aggregates them in one single website. Since Chicago-based Groupon introduced the social group buying concept in late 2008, the daily deal phenomenon had spread across the globe – Groupon CEO Andrew Mason earlier in March estimated 100-150 clones around the world, although the number is far, far higher if the 100-200+ clones in China estimated by Mobinode founder Gang Lu is to be believed. It has also taken hold in Southeast Asia and especially Singapore, with the launch here of VoucherWOW, Deal.com.sg, Beeconomic and Voucherous.
"We have been keen followers of the daily deal phenomenon, where we have bought many deals ourselves and absolutely love the discounts which otherwise could be too tough on our pockets," says Goh Yiping, co-founder and advisor at All Deals Asia.  "However, since June 2010 there's an ever growing number of daily deal sites and going to each of these sites everyday has become quite a task. Imagine visiting some seven to nine such daily deal sites per day just in Singapore!"
Solving A Consumer And Business Pain Point
Yiping points out that not only is this a consumer pain point, it can also be a business pain point – with the steady increase of daily deal sites in Singapore, newer daily deal sites that offer very interesting deals may not be able to garner enough consumer mindshare. "Why not marry demand and supply in one single website?", the founders asked themselves, and that was how All Deals Asia started.
The site targets users who are smart buyers with a keen eye on great bargains, customers who love to share the latest deals with their friends and adventurous individuals, families or corporate groups who are looking for new things to do at a great price for their next outing. "We provide the single avenue where users can find these highly attractive deals," says Yiping.
The business model for All Deals Asia, reveals Yiping, will focus around placement fees from social buying sites to list daily deals on the page. This includes additional fees for premium placements, such as being listed on top of the site as a "Featured Deal" and on email newsletters and the company's Facebook page. All Deals Asia also offers advertisers advertising opportunities through web banners on the site (although we reckon this is not going to make up a large part of their revenue).
One of All Deals Asia's biggest achievements and also their biggest challenge, she says, was being able to launch the All Deals Asia site in a very short time and limited budget. Since their launch in early August, they've managed to gain quite a lot of attention from consumers, merchants and even investors – proving to the team that "they've done something right". They've been approached by several international investors and are currently in talks with them, reveals Yiping.
Aside from Yiping, the other co-founders of All Deals Asia includes 27-year old Thomas Goh, the startup's managing director, as well as Wayne Goh, who serves as their marketing director. Thomas comes from a hospitality, retail and telemarketing background, and previously co-founded a lifestyle marketing company, while 18-year old Wayne is an accountancy student who started his first business when he was just 16.  Yiping herself is a familiar face in the Singapore tech startup circle, where is is currently the managing director of Human Network Labs Singapore and a vice president of Singapore's Mobile Alliance.
There Is No Such Thing As Failure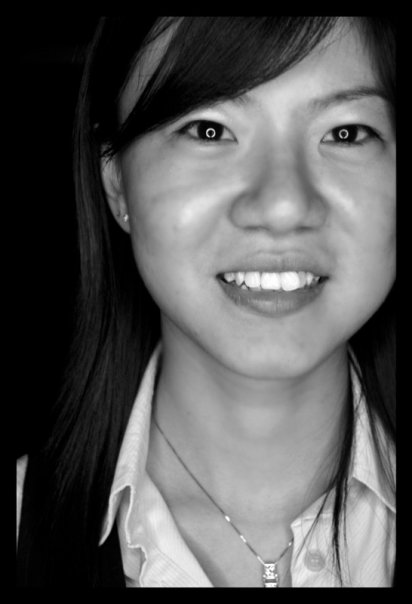 Entrepreneurship is a journey where you keep learning and keep going, says Yiping.  "There's no such thing as a failure; you will only get better – if you learn quickly."
"An entrepreneur starts from a blank canvas and everything he or she does makes a huge difference," Yiping explains. " This is what I enjoy, the journey of making a difference and contributing to our world in every little way."  She adds that entrepreneurship is a great way to – at least for some people – dramatically accelerate their self-awareness and can propel them to exponential personal and professional growth.
"It is one of those paths where you are allowed a rare access to view the world from very different perspectives."
"I'm happy and honored to do what I'm doing; I cannot imagine a life any different."