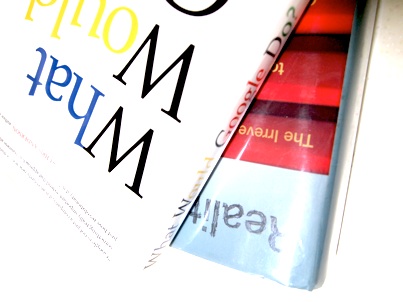 Here are some books which I highly recommend for all aspiring or new web entrepreneurs. Heck, I recommend them to all entrepreneurs.
"Once You're Lucky, Twice You're Good: The Rebirth of Silicon Valley and the Rise of Web 2.o"
by Sarah Lacy
BusinessWeek's Valley Girl Sarah Lacy shares a rare glimpse of the Silicon Valley ethos and culture that drives the thinking and drive of the many startups in that entrepreneurial hub. Through her narrative, she describes the factors within Silicon Valley ecosystem that make it tick – youth, drive, passion, the first Internet bust and the young, experienced Net entrepreneurs that served as mentors to a whole new generation of startups.
"What Would Google Do?"
by Jeff Jarvis
Contrary to the title, this book is not really about Google. It's about the new paradigm shift in thinking that companies, brands and individuals need to adopt to deal with and survive in an increasingly connected world. Jarvis, previously the founding editor of Entertainment Weekly and currently an associate professor and director of the interactive journalism program at the City University of New York's new Graduate School of Journalism, hypothesizes how different industries – utilities, manufacturing, transportation, retail and even insurance – would look if Google took over.
"Free: The Future of a Radical Price" by Chris Anderson
The editor of Wired and author of The Long Tail Chris Anderson comes back with a discourse on the phenomenon of free pricing as a revenue model. Despite being panned by some critics, this book is still an essential read to understand how different forms of pricing, and by extension marketing, matters for a product or service offering.