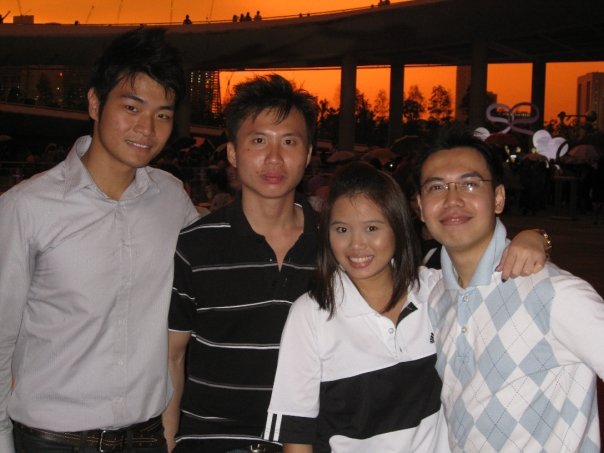 Music may make the world go round, but everyone knows the music business can be tough. Yet this not stopping the young entrepreneurs at ExpressINMusic, an online service that matches those who need personalized music with those who can make it. Started by four enterprising youths – Adriel Chan (24-years old), Wee Wei Jie (25), Tiffany Yew (24) and Jerry Chen (24 ) – Singapore-based ExpressINMusic is, to hear them describe it, a platform that 'connects your needs in delivering your message emotionally through original music'.
"(It's for the) couple in love wanting to pen their personal story in a song or a company with a branding purpose to touch the hearts of its targeted audience," says Jerry Chen, who handles business development. "With the personalised song, you can meaningfully deliver your message effectively without the worries of legality issues like copyright infringements too."
Its premise is simple. Simple define a story and emotions that you wish to convey through a song on the site, and hope some musicians on their network will express interest and post samples, select the one you like best and finally have the song produced. Sounds easy enough, but I reckon the devil is in the details.
A Passion for Music
Jerry, the startup's spokesperson, says that everyone in his team has a keen interest in music and entrepreneurship and believe people should look into local tutors and take up music as well. He shares that the inspiration for ExpressINMusic came out of the blue one night as he was reading a newspaper article about a composer and his passion for music. Having always been interested in music, he came upon the idea of writing original songs for couples who were getting married and shared this idea with a buddy. "But both of us were not composers… (so) the idea of outsourcing music requests to a network of musicians out there came about."
Jerry believes that the key USP of ExpressINMusic is the wide network of musicians they can tap into, resulting in time and cost savings for clients. To substantiate his point, Jerry explains that the average original song production can cost anything from $1,500 to $5,000 and above, while their song production by ExpressINMusic is pegged at either $600 or $1,500 depending on the package chosen. In addition, the time taken for the industry average in song composition to production takes around three months, while ExpressINMusic can deliver it in just five weeks on average.
"When a music request is submitted, the client will be able to hear many different song pieces and find one that suits them best. The quantity is here," Jerry assures. "And there is also the high quality amidst the quantity of musicians in our database. Given that we are able to form credible partnerships with local sound engineers and music schools, the quality of music works certainly prevails."
With this service, Jerry says, ExpressINMusic can also offer Singapore musicians the opportunity for greater exposure. "People say that you can't survive in Singapore doing arts and music – we want to prove that wrong." He also reveals that they intend to go regional and overseas gradually. I'm somewhat surprised of the strong focus on local musicians and their gradual expansion plans. I would've thought for rapid adoption and scalability they'd need to open up the service as wide as possible.
ExpressINMusic believes there is potential in the "love" market – couples getting married, or during courtship. To further grow their business, Jerry says the service will also look at the B2B (business-to-business) market, especially in the area of film and media production as well as advertising. Its business model relies largely on a commission basis.
ExpressINMusic is funded by SPRING Singapore and various private investors – Jerry declines to reveal the actual amount except that it is to the tune of a five-digit figure – but is looking for additional funding opportunities. The startup is also looking to expand its team. "We have business coming in and need to cope with many aspects such as design and some administrative work."
On Entrepreneurship
If there's anything that Jerry believes about entrepreneurship, it is that 'action speaks louder than words. "If there's an opportunity, and you really want it, go for it! Merely saying that you want the opportunity is not going to get you anywhere," he encourages. "Don't wait for things to happen. As an entrepreneur, you make things happen!
"I have come a long way but there's a longer journey ahead with more learning experiences. I now realize that you have to learn from failure to be successful."
"Put in the effort and go through the pain. Then sweet success will come."