Hosted Call Center: How It Works And The Benefits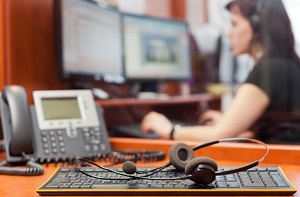 Hosted call centers are getting more popular by the minute. This is due the proven results that a hosted call center gets.
A hosted call center offers all the major tools of a call center with the advantage of the minimal startup costs involved, which is why the hosted call center, such as the one provided by Broad-Connect Telecom, is the most cost-effective and efficient option for companies nowadays. All the company has to do is to buy the software that is updated frequently. The best part is that it doesn't have the cost that a normal call center would have if you had to upgrade it.
The hosted call center is a very easy-to-understand type of service. Take a look at how it works:
How it works
You hire the service provider and they handle everything else for you. You don't need a large IT team to handle the operation for you. The service provider will take care of the hosting, which is the expensive part of having a call center. You can switch the services on and off depending on your company's need.
A hosted call center is an affordable option and likely the best one. That's why is growing so fast, but let's see the real benefits of this service.
Benefits
Better Call queuing and handling: 
The hosted call center has a more efficient and better call handling because the calls are queued on the service provider's cloud network. The call is queued until there's an agent available. This way the call will not be on your network getting in the way of active calls.
Scalability: 
The hosted call center can scale to support millions of users around the world. You get sophisticated services with the functionality required for today's marketplace. You get scalability and flexibility.
Complete integration with combined communications services:
The Broad-Connect Telecom call centers are completely hosted, providing PBX and automated call distribution functionality and getting rid of the need to keep a desktop client. By enabling a more complete integration of computing services such, as Web collaboration, videoconferencing, instant messaging and presence, users can quickly gravitate between different environments (remote, office, home), while companies can provide a more consistent and trustworthy customer experience.
Monitoring all the calls: 
The hosted call center's software monitors all the calls. So you can track efficiency and effectiveness of the customer's service. This helps agents to better handle calls by making them more adaptable. This helps your company by building morale.
Bundled offerings:
The hosted call center is able to deliver a level of simplicity, cost-effective, and control by bundling call center services. Companies can have it all together in a single bill with a single point of contact to guarantee that any problem can be quickly solved. A full offering eliminates the need for companies to combine different platforms, and, as a consequence, companies benefit from the blend of better solutions without the cost and complexity associated with having to handle them internally.
Cost Reduction:
This is the best and most obvious one. When you don't have to do things like hire people, create internal space for all the equipments, and have your own network to handle calls; only one result is possible, the reduction of costs. The hosted call center is a great solution because it costs almost nothing to hire and is very low cost to maintain, since you don't have to afford the maintenance fees you would have. The cost of a hosted call center may be of 40% in a period of 5 years.
So you can see that is very easy to understand how this service works. The benefits are also that you get a company that has experience and track record of doing this service. You don't have to worry about how the calls will be handled because you know that it's being done by professionals that will give you your money's worth back.
Before hiring a hosted service take a look at the option you have and make sure that this service is for you. Then you can consider all the offers available in the market. The hosted call center is fast, cost-effective and a high-quality service.
Take into consideration the money your company will spare and the quality of service before making up your mind. This is a great solution when chosen well.
The intent of this text is not to convince you to hire this service, but to inform you of the advantages of it, so you can make a smart decision.

Young Upstarts is a business and technology blog that champions new ideas, innovation and entrepreneurship. It focuses on highlighting young people and small businesses, celebrating their vision and role in changing the world with their ideas, products and services.