Online Network myRight Helps You Know Your Rights (And Wrongs)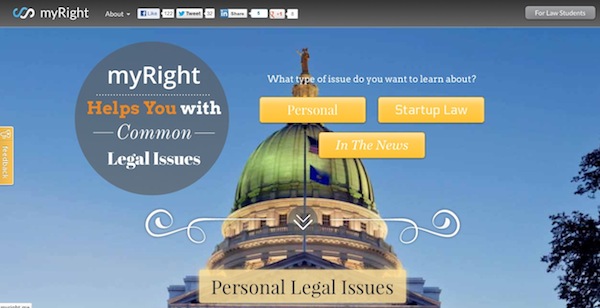 Most of us aren't familiar with the law - in fact, most of us probably try to avoid having anything to do with it until we're forced to by some unfortunate circumstance. But what happens when you're plunged into a situation where you need to know about your legal rights? Legal counsel can be an expensive proposition, and asking uninformed friends is courting trouble. That's where Los Angeles-based startup
myRight
comes in.
myRight
is a social platform for crowdsourced legal content, connecting subject matter experts (lawyers and legal students) with those who need basic legal advice. The startup hopes that by having a network of legal expertise that is available online and made interactive, basic understanding of the law will be improved. Two of the three
myRight
co-founders were third-year law students who left law school and high-paying jobs behind to pursue their passion for teaching people their rights. When they had worked at pro bono clinics during school, clients would come in day after the day with the same legal problems - but they could only help them one at a time. They realized that there would be a better way to help the many others with similar legal problems, and this need formed the basis for
myRight
. "To the average consumer, the law is a mysterious black box," says Frank Monestere, president and COO of
LegalZoom
, one of the startup's key advisors. "Translating legal issues into plain English that consumers can understand is a tremendous market need." The company is currently part of LA-based startup accelerator
StartEngine
.
Daniel Goh is the founder and chief editor of Young | Upstarts, as well as an F&B entrepreneur. Daniel has a background in public relations, and is interested in issues in entrepreneurship, small business, marketing, public relations and the online space. He can be reached at daniel [at] youngupstarts [dot] com.